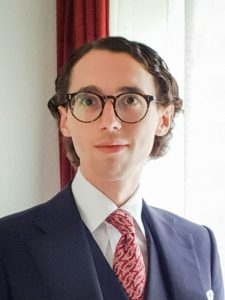 Daniel Damberg is the LTH alumnus (Civilingenjörsexamen/MSc in Engineering, Engineering Physics, 2017) who combines his job as a quantitative analyst at Handelsbanken with a grand interest in baking. An interest that took him all the way to the TV show "Hela Sverige bakar" ("The Great Swedish Bake Off") in 2020.


Where did you get your interest in baking and desserts?
– I would not say that my interest in baking started early. I guess I have always had a certain interest in food that came from my upbringing, but I didn't really have any clear attraction to baking specifically, and it was mostly on the level of it being fun to prepare food for dinners or parties.
– The passion for baking as such was probably aroused when I first moved to Lund and lived in a student residence hall. We shared coffee and snacks every Sunday, so every time it was my turn to arrange the food I baked something a little more advanced, and soon I started to feel that I had a bit of an aptitude for it. From there, it didn't take much to use baking as a kind of exam avoidance strategy, which was of course much appreciated by my fellow students at the residence hall and in my courses. Eventually, I stepped out into student life, where I met others who shared my passion for cooking and baking, which inspired me to push myself further. The more I practised, the better I got, and the more fun I had: a passion was born.
What lessons have you taken from your time as a student in Lund that have been useful to you as a cake designer, perhaps during the taping of the Great Swedish Bake Off in particular?
– It might sound like a cliché, but baking is a lot like chemistry and requires a great deal of precision. It also requires you to work calmly and methodically and to plan every step, for everything to turn out right. You need to think like an engineer. I benefit greatly from my years at LTH every time I am about to bake, as I got many opportunities to practise these exact properties during my study programme. I see baking a bit like solving a maths problem in an exam. The tools are of course completely different, but I tackle baking in the same way I learnt to tackle mathematical problems.
Do you have any good food or cake-related memory from your time as a student in Lund?
– I have many wonderful food memories from my time as a student, from long evenings in the kitchen of the Gasque hall in the Students' Union building, preparing for formal dinners. I remember one time in particular when I must have spent two days making hundreds of petits choux with different fillings for a major formal dinner. The social secretary and those working with me in the kitchen thought I was completely mad, but the result was very much appreciated.
How do you combine your current job as a bank analyst with your interest in cooking and baking?
– I bake in my spare time. Baking is a creative outlet and a welcomed change of pace after a long working day in front of a computer screen. Of course I like to bring various baked goods in for my colleagues at work and they enjoy them.
What trends do you foresee for cakes and baked goods in 2021?
– I think it is difficult to talk about trends in baking as there are so many different currents. At the moment, I see many new interpretations of classic baked goods. You don't need to change a lot, but classic tastes in an updated package, or the other way around, new flavours in a classic format, are popular.
– Another trend, which doesn't appear to be losing steam, is the increasing importance of the visual aspect in recent years, with the emergence of Instagram. The exact way in which this is expressed can vary a lot, from squirting a little frosting on a sticky chocolate cake to creating richly decorated baked goods with many components, all the way to almost photorealistic renditions of fruit or objects, for example. But a creative appearance is important.