This Wednesday morning, the winners of the annual Future Innovation Award by Lund University Innovation and Sparbanken Skåne were announced. The competition aims to promote an innovation-friendly culture within the University, and to encourage more new ideas that can lead to future innovations. All student and employee projects that show a high level of innovation, commercial and/or societal benefit and newsworthiness are welcomed into the competition. This year, a solar energy system for schools in developing countries and a new treatment for patients suffering from heart attacks were crowned winners.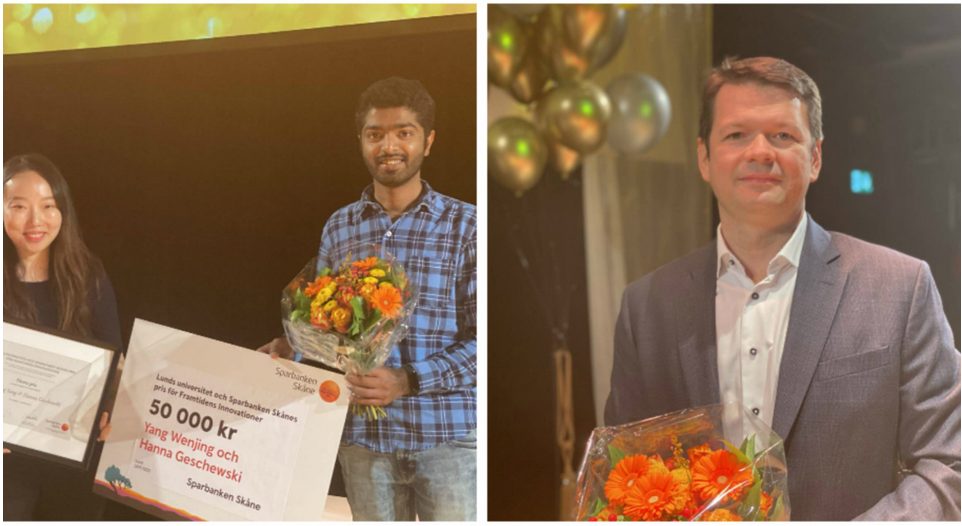 Off-grid power for schools in developing countries
Grand prize winners in the Student category were Wenjing Yang and Hanna Geschewski's project, Solar4Schools. Solar4Schools develops an off-grid solar energy system for schools in developing countries that do not have access to reliable, affordable and clean energy.
Today, there are more than 2,8 million schools in developing countries that do not have reliable access to electricity. During her studies, Wenjing Yang made a field trip to Kenya, where 57,000 schools burn kerosene to get lighting. It affects the quality of education for more than half of the country's students. This is where the idea for Solar4Schools was born.
Solar4Schools has developed an independent system with fewer components but which still meets the schools' basic needs. By also offering a telephone charging service to the local community, with the help of mobile payments and IoT technology, the customer can self-finance the product.
Read more about Solar 4 Schools here
Revolutionary treatment of heart infarction
In the Employee category, Alexandru Schiopu received the grand award for his research on "A new anti-inflammatory treatment to reduce the consequences of myocardial infarction".
Cardiovascular disease is the single most common cause of death in the world. Alexandru Schiopu's project develops a revolutionary treatment for patients suffering from heart attacks. By reducing inflammation in the heart, the patient's heart function can be improved, and the risk of heart failure reduced, which significantly affects the patient's prognosis and quality of life.
In this project, a special pro-inflammatory protein that is secreted in large quantities after an infarction has been identified. The protein kills heart cells directly, intensifies the inflammation in the heart and worsens heart function. But – there is a small molecular blocker, which can stop the pro-inflammatory protein. The potential social and economic benefits of a treatment that effectively reduces the consequences of heart attacks can be considered extremely high and the intention is to further develop the project towards clinical testing. Alexandru works as associate professor at Cardiovascular Research – Immunity and Atherosclerosis at Lund University.
Click here for more information about the award ceremony (in Swedish).
Curious about the Future Innovation Award? Click here to read more.


Click here for source to project descriptions
Featured photo by Polina Zimmerman från Pexels
Photo by Lotte Larsen.