Meet alumnus Kevin Utjes, who recently graduated and is now working at an international consulting company in Stockholm.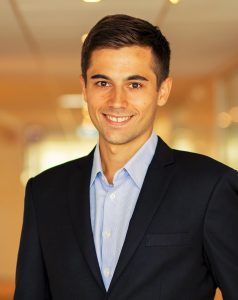 Tell us a bit about what you studied.
I have a Master's degree in Industrial Economics from Lund University, Faculty of Engineering (LTH). I started my studies in the autumn of 2013 and graduated in the spring of 2018.
When I was researching my options for university studies, I was not quite sure what I wanted to do. I was dedicated to finding out as much as possible about my options, and Industrial Economics seemed to be an interesting and attractive programme. Therefore, I decided to apply! Of course, I had also heard that Lund was a spectacular student town, and I must admit that I was not disappointed.
During my studies, I enjoyed the mix of economics and technical courses. There were plenty of possibilities to select courses based on my individual interests. As a bonus, a degree in Industrial Economics is very attractive on the job market!
What have you been up to since graduation?
After graduation, I moved to Stockholm and started working as a management consultant at a global consultant company, McKinsey & Company. During my year in this position, I have had the great opportunity to work with colleagues from all over the world. I am working in teams and we sort out complex challenges with companies in many different branches. The diverse variety of projects makes me feel challenged in my job and contributes greatly to my personal development. It is so rewarding to be able to work with fantastic colleagues and work with real problems!
Where do you see yourself in five years' time?
That is a great question! I enjoy my current work and I see myself growing professionally within this field. For me, it has always been important to have a clear direction in what I do, and in the short run make sure to find ways to reach the goals I have set for myself.