September is coming to an end and I think it's safe to say that autumn has officially begun. Here in Lund we're really getting the full autumn experience, the weather is gray and rainy and the leaves on the university library are turning yellow. In other words, it's the perfect time to get cozy inside with a good book. In honor of the book fair in Gothenburg this weekend, in which Lund University is participating, I'm going to recommend four books you can read this autumn. Some books are new, some are not. However, they are all written by Lund University alumni.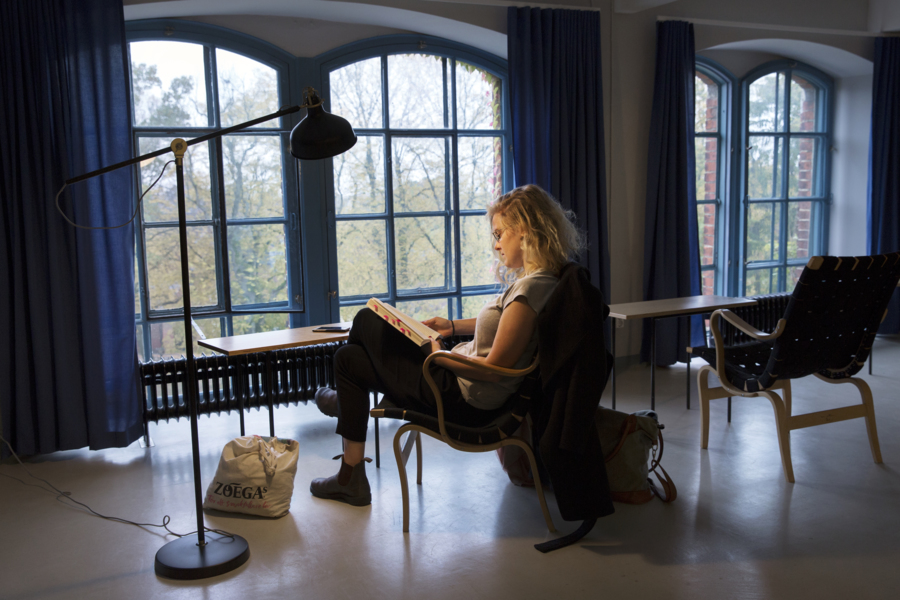 So here are four books to read if you're into…
… Thrillers: A Nearly Normal Family by M.T Edvardsson.
"A Nearly Normal Family is a gripping legal thriller that forces the reader to consider: How far would you go to protect the ones you love? In this twisted narrative of love and murder, a horrific crime makes a seemingly normal family question everything they thought they knew about their life―and one another"
Mattias Edvardsson studied literature, Swedish and Pschycology at Lund University. His book was published in June earlier this year and has since then been sold in over 30 countries. Sound familiar? We've previously done a blog post about him – so scroll down on the blog to read more!
… Books in Swedish: Jag for ner till bror by Karin Smirnoff
"In Smalånger everything is as normal. Maria has been found dead. Her brother is a drunk. Harelip John has eyes like black holes in space and the geriatric care has gotten a new employee, Janakippo, who stabbed his own father with a hayfork. "Jag for ner till bror" is a dark, raw, violent and pious story. It's loving, passionate, warm and safe. Hardest of all, is forgiveness."
Karin Smirnoff studied literature at Lund University and during her second year, she was nominated for 2018's August prize, the most prestigious prize in Swedish literature, for her book. The book has not yet been translated into English, but if you want to shape up your Swedish skills this is an excellent choice.
…Questioning things: On finding by Andreas Ekström.
This book, published in 2018, is about the ongoing search humans participate in, both online and in life. At the same time, it's about the author's up-coming liver transplant.
Andreas studied literature at Lund University and collected his degree in 2002. Today he is working as a journalist at the Swedish newspaper Sydsvenskan. "On finding" is a book that covers the topic of digitization in both an enjoyable and interesting way.
… A lot of pictures: The Universe of Lund by Per Lindström & Andreas Ekström
The title says it all. This is a book about the life in the universe of Lund. With its pictures it helps us remember and reminisce about how the life as a student in Lund actually was. This book will probably leave you feeling nostalgic about your time in Lund.
Those are my picks for some good reads this autumn. If you have any tips on great books you'd recommend to fellow alumni – leave a comment!
Happy reading!