Today, on the international women's day we celebrate the social, economic, cultural and political achievement of women. What could be a better time to share an alumni portrait of the first alumna from Lund University, Hedda Andersson?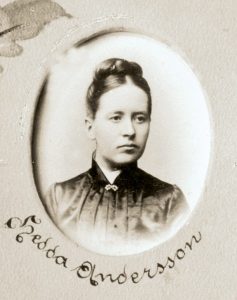 Hedda Andersson, the second female student at Lund University, was the first woman to graduate from Lund University in 1887. With a Bachelor's degree in Medicine, Hedda was admitted for an internship at Karolina Institutet in Stockholm where she, in 1892, was awarded licentiate of medical science and became the second female doctor in Swedish history.
After retirement, Hedda moved back to Lund and on her house on Karl XI Street you can find a plaque in honor of her memory. In September 2017 Lund municipality chose to name the new high school in Lund to "Hedda Anderssongymnasiet", also in memory of the first alumna from Lund University.
Sources:
The Lund University timeline (click here for more information)
Faculty of Medicine, Faculty of Medicine (click here for more information)