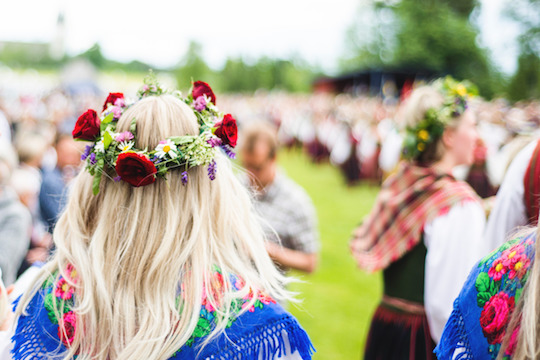 Text: Patrik Sandgren, archivist at the Folklife Archives with the Scania Music Collections, Lund University
1. Collect midsummer dew during the night to transfer strength
There are old descriptions of how to "draw midsummer dew". The dew that was collected during the night was taken, for example, from someone else's land to transfer the strength of the other person's animals to their own. The dew was also used for other purposes. In Tving in Blekinge, it was used as an ingredient in sourdough.

2. Protect yourself against the evil eye by boiling, among other things, the bones of the dead and nine wishes written in stolen ink
To protect yourself against "the evil eye" it was possible, according to an old recipe from Småland, to use seven different kinds of flowers picked on Midsummer night, boiled together with coal from an accidental fire, nine wishes written with stolen ink, tallow from Christmas church candles as well as bones of the dead.
3. Sweden's largest midsummer maypole is 25 metres high and weighs 400 kg
Sweden's largest midsummer maypole is said to be in Leksand, measuring 25 metres and weighing 400 kg. The raising of the maypole is usually witnessed by tens of thousands of people. Many are visitors from the neighbouring municipality of Rättvik, which has led to other residents of Rättvik wanting to raise an even larger midsummer maypole (than the one in Leksand).
4. Consult with a cow or pig on what is to come
There have evidently been early beliefs about animals being able to talk on Midsummer night. In Bäckaby in Småland, people would sneak into a suitable barn and lie down to listen to the animals, which were also clairvoyant. What the animals said was what would happen during the remainder of the year.

5. Surprise! These days you do not need to pick your seven wild flowers to find your future spouse
To sleep with seven different flowers under your pillow on Midsummer night is a well-known trick to finding your future spouse. This folk belief is even used in current advertising. At blomsterlandet.se there is an offer of seven different kinds of flowers considered to be associated with midsummer, daisies, flowering tobacco, dahlias, lavender, million bells flowers, twinspurs and lobelias.