End of November and beginning of December – a quite gloomy and dark time of the year in the Northern Hemisphere. One of the best recipes for chasing off the dark weather is a combination of hot cocoa, soft blankets, and good books. We believe that this is a tradition that could be celebrated all over the globe. At least, the part with the good books (and maybe also the chocolate). Research shows that reading has a significant number of benefits (same goes for chocolate) such as mental stimulation, stress reduction and memory improvement.
Over the years, Lund University has produced hundreds of thousands of talented of alumni. Some of you have become talented authors who have produced lots of inspiring, funny, scary or romantic books. Earlier this year we started the Alumni Book Club together with Författarskolan (The Creative Writing Programme) at Lund University to give alumni the opportunity to enjoy some of the literature produced within the alumni community. At this point in time, books and seminars are in Swedish, but we promised to share reading tips for the English-speaking part of the alumni community as well. This blog post is the first chapter in that reading list.
And, if you know of alumni authors with books in English, drop us an email on info@alumni.lu.se.
Click here to learn more about the Alumni Book Club (in Swedish)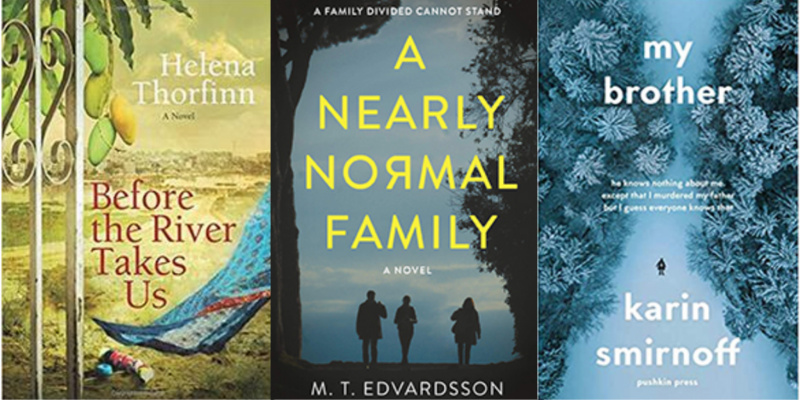 Before the River Takes Us by Helena Thorfinn
Thorfinn is a bestselling Swedish fiction writer and journalist, born in Lund in 1964. Her books are noted for their interest in international development, poverty, human rights and ex-pat experiences. Before the publication of her first book, Innan Floden Tar Oss (Before the River Takes Us) in 2012, Thorfinn worked in international development. This followed a career as a journalist in national print and broadcast media in Sweden. She has also produced documentaries for national TV. Before the River Takes Us has been translated into Polish, Norwegian, Icelandic and English.
A Nearly Normal Family by Mattias Edvardsson
Edvardsson is a writer and upper secondary school teacher of Swedish and psychology. In 2016, he made his debut with a book published by Forum entitled En nästan sann historia (An Almost True Story) and he had a major international breakthrough in 2018 with the thriller En helt vanlig familj (A Nearly Normal Family). It was translated into thirty-three languages and was acclaimed by both reviewers and readers. He has recently published a new book, En familjetragedi (A Family Tragedy).
My Brother by Karin Smirnoff
Karin Smirnoff worked as a journalist before she got tired of it and bought a carpentry factory. After a few years, she missed writing and applied to Lund University's Creative Writing programme with what would become her debut novel: Jag for ner till bror (My Brother). It was received with great enthusiasm and she was nominated for the August Prize in 2018 in the literary fiction category. Book two, Vi for upp med mor (My Mother), was published in spring 2019 and the trilogy was completed in 2020 with Sen for jag hem (Then I Went Home). By December 2020, her series about Jana Kippo had sold more than 500 000 copies. She has recently published a new book entitled Sockerormen (The sugar snake).
Text: Maria Johansson & Helga Heun
Photo from Amazon.com (book covers) and cover photo by Rahul Pandit from Pexels