This week we meet alumnus Mikael Westerling, Chief Sales Officer and Co-founder at GRID Esports. With a major esports tournament around the corner here in Lund, we get the inside scoop from Mikael, as well as a special offer for LU alumni!
You graduated with a degree in Law from Lund University in 2013 and now you are the Chief Sales Officer and Co-founder at GRID Esports. What lead you to a career in esports following your studies in law?
During my studies I worked for a traditional sports data company in the igaming space, which had opened to me a whole new world filled with novel, interesting legal challenges. Throughout my studies, I managed to combine my professional career and education, often by using examples from the igaming space in the academic essays or even my thesis. After I graduated, I continued to work in the igaming space where I had a chance to make great use of my legal studies while moving to the commercial role. After many years in the traditional sports world, I noticed the emergence of the esports space. Shortly after that, I met GRIDs Founder, Moritz Maurer, a passionate esports fan, who inspired and later convinced me to take the bet on esports as the future of sports betting. We are currently the leading Game Data Platform, working with the best game developers and tournaments organisers – so I guess it paid off to explore the back then unknown space.
This June (9th-11th) there is a big esports tournament being hosted in Lund and your company, GRID, is among the hosts. For those of us not familiar with the world of esports, tell us more about the tournament and your role behind the scenes.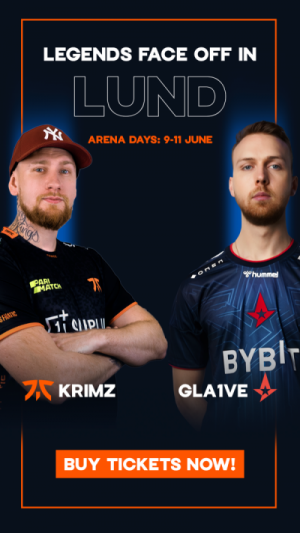 Pinnacle Cup Championship will mark the culmination of over two years' worth of Pinnacle-backed events that have been run in collaboration with GRID. Pinnacle Cup has evolved into a firmly established esports tournament attracting multiple world's foremost teams. We aim to reinforce this position with the upcoming LAN event in Lund, with top teams like Astralis, BIG and Fnatic competing for a prize pool of $250 000. GRID's role in the tournament is to be a facilitator by bringing all parties, sponsors, Visit Lund and the production partner together. I highly recommend all alumni to take the chance to attend the event. It is a great opportunity to visit Lund while experiencing the unique emotions that only LAN events can provide.
What is your top advice for those passionate about esports and interested in a career in the industry?
I would say to become very good in an area that you like; the esports industry is not that different from other industries, apart from a small quantity of esports specific topics, you need the same skills as in the different industries so don't be afraid to be open-minded and search for your unique place in this market.
If any software engineers out there are interested in a career in esports, look no further: grid.recruitee.com. 🙂
What is your favourite computer game to play?
Right now, I would say my favourite computer game is CS:GO, however I rarely get the chance to play these days.
What is your favourite memory from your student days in Lund?
Meeting my wife – she was one semester above me and I bought her books…
Interested in attending the Pinnacle Cup Championship in Lund?
As Lund University alumni, you can take advantage of a special offer! Alumni get FREE tickets* on Thursday 9 June (the first day of the tournament)!
Get your tickets here: https://shops.ticketmasterpartners.com/pcc-welcome-to-lund
*Please note: there are a limited number of free tickets, so get yours while supplies last!

See also the press release about Pinnacle Cup from Visit Lund (in Swedish).