Meet Joshua Arteta Gonzalez, a Lund University alumnus from Colombia, currently working as an Associate Programme Officer for the United Nations Office on Drugs and Crime (UNODC) in the Maldives. Joshua studied the Master's in International Development and Management (LUMID), part of the Department of Human Geography. He was awarded the Lund University Global Scholarship in 2017 and graduated in 2019.
Hi Joshua! What have you been up to since graduation?
Honestly, it's been the journey I was dreaming to be on. After the summer of 2019, I went back to Colombia, and started applying for jobs in Bogota and abroad like crazy! Luckily, I got several job offers, but ultimately I accepted a United Nations Volunteer (UNV) position in Sri Lanka with the United Nations Office on Drugs and Crime (UNODC) and moved to Colombo in October 2019. I had completed an internship with the same UN agency back in 2018 as part of my master's at Lund University, so Colombo was familiar to me… and I loved it! I was a Project Support Officer under UNODC's Global Maritime Crime Programme (GMCP), assisting the team in the implementation of projects to combat maritime crime.
This was just before COVID-19 hit South Asia. I managed to have a couple of work trips, or 'missions', but it was mostly working from home. A decision was made to relocate me to Maldives, so in August 2020 I moved to Hulhumalé, a reclaimed island next to the capital Malé. I was one of the first international attached personnel of my agency to be permanently based here, which meant that there was a lot of work to be done: finding office space, developing good relations with government agencies, team building, proposal writing, you name it. Despite COVID-19 restrictions and countless PCR tests, it has been amazing.
You currently work as Associate Programme Officer at United Nations Office on Drugs and Crime (UNODC)'s Global Maritime Crime Programme in Maldives. Can you tell us more about the work you do and what a normal workday could look like?
This happened somewhat recently, just six months ago. As I mentioned above, I was a UNV. I was offered a full-time position as an international staff member after months of intense work in the middle of the pandemic. I was beyond proud and excited! This is not at all common, especially for a town boy from Colombia!
As an Associate Programme Officer, I am in charge of UNODC's maritime portfolio in Maldives. The Programme I work for is the maritime arm of UNODC, which means that I work mostly with actors of the criminal justice system to make sure that crimes committed at sea are timely identified, properly investigated, prosecuted and adjudicated in line with United Nations instruments, principles and standards. I work with police, customs and coast guard, prosecutors, judges and corrections. Topics range from international maritime law and respect for human rights at sea, to humane treatment of prisoners in places of detention. This is somehow unexpected for me – I never thought I would be working on justice or rule of law. But it is a fascinating field and I learn everyday.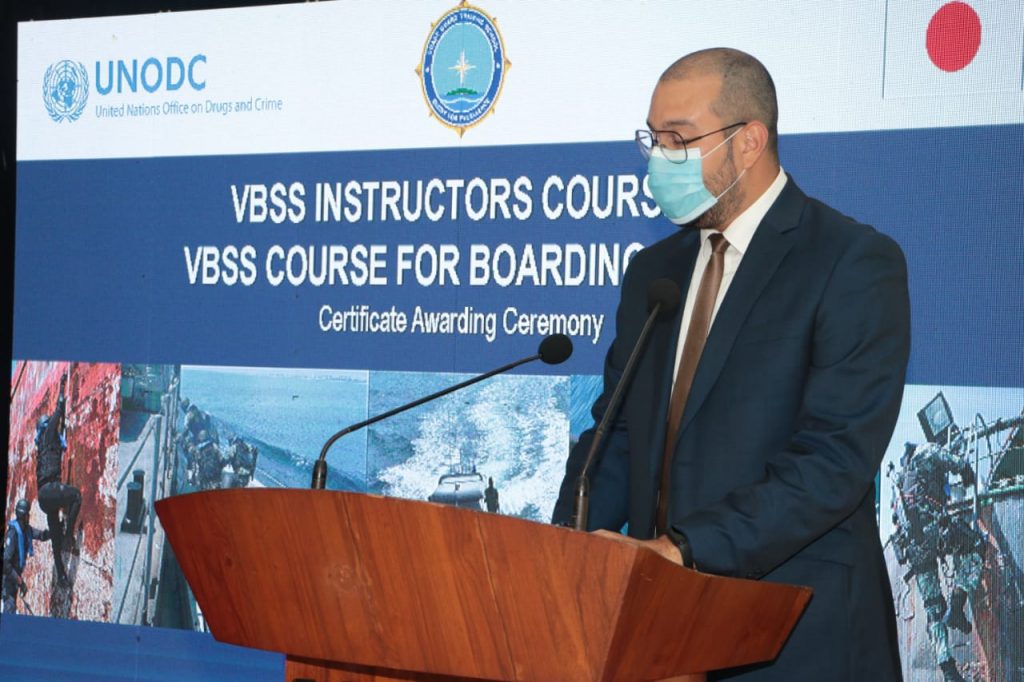 I feel there's no such thing as a "normal workday" when one works in international development or peace and security, no matter how big or bureaucratic the organization is. Work can be as straightforward as having meetings with national counterparts, or as dynamic (and I'd say cool) as planning and executing a maritime training on board a vessel out at sea with law enforcement members. I'm still working under a work-from-home scheme, so today I might be wearing shorts and slippers from a café in Malé, and tomorrow I might be wearing suit and tie (yes, in hot tropical weather, yes!) to hand over specialized equipment donated to a government agency. What I can say for certain is that there is always something to do. Always. This kind of work can be boring for some, but this is the exact kind of job I studied for and I was wishing to have.
What do you believe to be the biggest challenges in your everyday work?
I identify at least two challenges: first, being a "lone wolf" at times. My team, who I love working with, is based in Sri Lanka. As Maldives-based staff, this means that I'm responsible for a very wide spectrum of activities, everything ranging from contacting vendors for the procurement of goods, to acting as the representative of my agency in high-level events with ministers and ambassadors. I get to be "the big fish in a small pond", but office/administrative work is just as important, sometimes even more, and there's no one else to do it but me. This can be overwhelming. The advantage I got over this is that I really like my job: I can be delivering a speech in the morning, giving a lecture on maritime law in the afternoon, and later visiting a prison.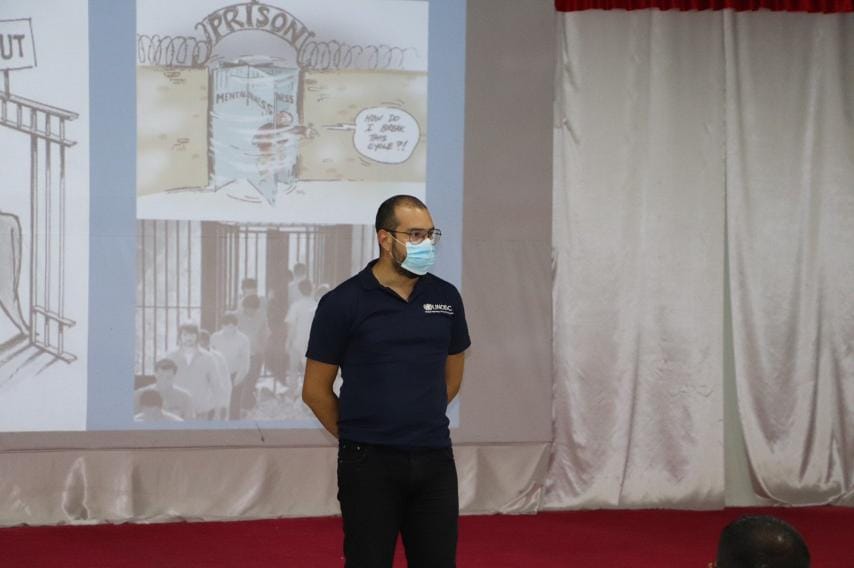 But too much of anything can be harmful. This links to my second challenge: work-life balance. Maldives has exceptionally beautiful beaches and abundant marine life in every corner (I even became a diver!) but living here is drastically different from being a tourist. Despite its massive maritime space, Maldives' islands are very small. Male' is one of the biggest and is only 6.8km2, hosting an impressive 250,000 people. Some estimate a higher number. Space is limited, and so are leisure options, especially if you are coming from a huge Latin American urban centre! If I'm not snorkeling or diving, I'm working, even during weekends.
In a more general sense, the biggest challenge (and at same time achievement!) is taking care of my mental health. I truly enjoy my solitude, but too much of it is simply not good. Fortunately, Maldives has been rolling out a very successful COVID-19 vaccination programme and it has been opening up. I have managed to go to other islands outside of Malé, both for leisure and work, and I have built friendships that I'm sure will last for life. And I'm also diving! I wouldn't have even considered it if I wasn't here.
How have your studies and student life at Lund University been beneficial in your work?
The answer is simple: my life in Lund prepared me for this. It sounds almost like an institutional answer, but it is not an overstatement.
Professionally, I'm constantly applying the knowledge I acquired during my studies at Lund. I graduated from the Master's in International Development and Management (LUMID). This programme includes modules on various topics within the development sector, from agriculture to global health. Although I'm working in a different field, the theoretical knowledge I gained is transferable to my current career path, and I'm a much nurtured professional thanks to LUMID. Also, having an internship as part of the programme, I think it has been proven that it can make a difference in someone's professional life.
Personally, I'd say that having normalized interacting with people of different backgrounds, nationalities and customs has been one of the biggest takeaways of my experience in Lund. I wouldn't be able to put into words how important it is to understand our differences, trying to comprehend where a person is coming from with a statement or an opinion, finding common interests through music or art despite being born thousands of kilometers away, or even spotting different accents! I don't mean this in a romantic way, no; this is a fundamental part of my job and it sometimes requires patience, an open mind and constant commitment. And obviously it's a must in the United Nations system.
What current fact about your life would most impress your five-year-old self?
I would say the speed at which I accomplished what I've accomplished: learning English by myself out of genuine curiosity, having visited more than 20 countries so far, being awarded scholarships during my undergraduate and graduate studies; being one of the first in my family to complete a master's programme, and holding a position in the United Nations as an international staff… and I'm only 29! At five years old, my biggest aspiration was to be an English school teacher. I could not have possibly envisioned the life I have today. Little Joshua, you have no idea, boy.
I don't want this to sound like I'm bragging, that's not my intention. I just grab every opportunity to take great pride as someone from the Global South, because we must work twice, thrice as hard to get to where we wish to go in the international arena. Yes, I have worked hard and I've gone through difficult situations to get to where I am, but so have others! So, to Little Joshua I'd also say, "you are very privileged too", but I'm sure he won't forget that.