This week we meet alumnus Damjan Grozdanovski who graduated from Lund University with a MSc in European Business Law. In our interview Damjan shares his career journey from graduation in 2017, to the law firm in North Macedonia and to the European Commission where he is working today.

You graduated from the master's degree programme in European Business Law in 2017. What have you been up to since your graduation?
After graduation, my first goal was to pass the Macedonian bar exam, in order to start practicing law in my home country. To qualify for the bar exam, I needed one year of practical legal experience, so I started working for a law office in Skopje. During this one year, I was constantly reading national laws and judgments, which has helped me refresh my memory about the Macedonian legal system. In this regard, my advice for students in the European Business Law programme is to keep in touch with their respective national laws as much as possible during their studies. The opposite also applies – it is important to keep in touch with EU law after graduation.
As soon as I passed the bar exam, I started working on several big cases and began representing clients in front of the national courts. I worked hard (as always), and used every opportunity to advance in my career as a lawyer. I had many such opportunities, and I am truly grateful for that. I am aware that many intelligent young people are not that lucky. For example, I had the opportunity to work on four big projects co-financed by the European Bank for Reconstruction and Development. In addition to this, I have written around 20 applications to the European Court of Human Rights, among which one judgment has seriously affected the Macedonian energy law. Thanks to this case, the whole law office got significant media exposure.
Apart from practising law, I like to share my knowledge. To this end, I am cooperating with a company which organises trainings, and in 2021 I was a speaker at four trainings about the implementation of the GDPR and the Macedonian law on personal data protection. I also remained in touch with EU law by writing an article for (and regularly reading) the Nordic Journal of European Law. Evidently, I kept in touch with Lund University through the Alumni Network 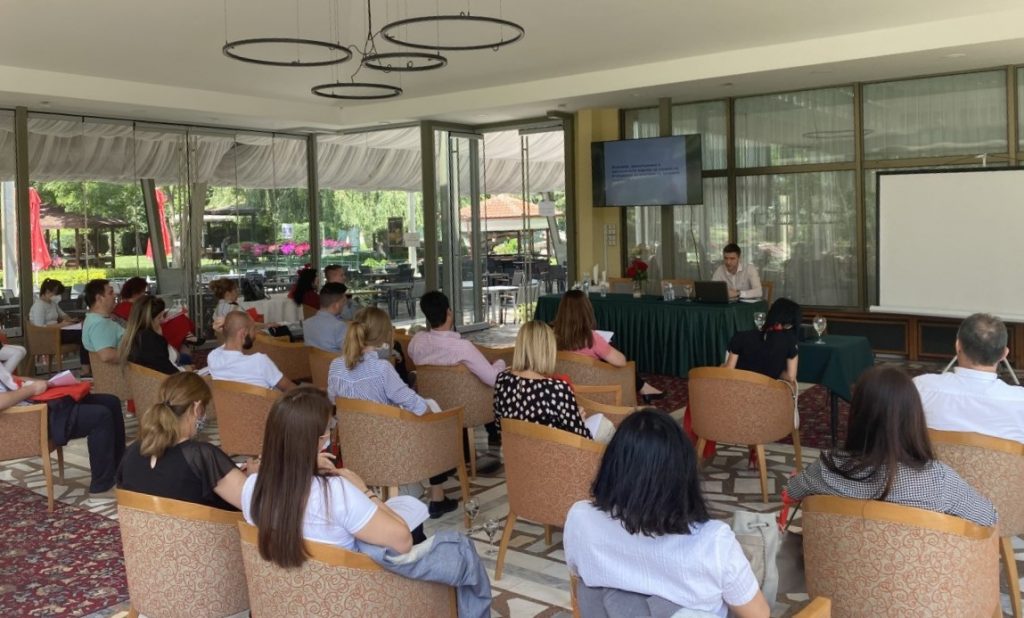 Of course, I understand that there is more to life than work! I regularly exercise, explore nature, run marathons and travel. I believe those activities keep the body and spirit in excellent shape. I also like to take care of other people, especially the people I love – I like to make them smile and I surprise them often. Speaking of surprises, once every year I turn into Santa Claus – the most wonderful time of the year!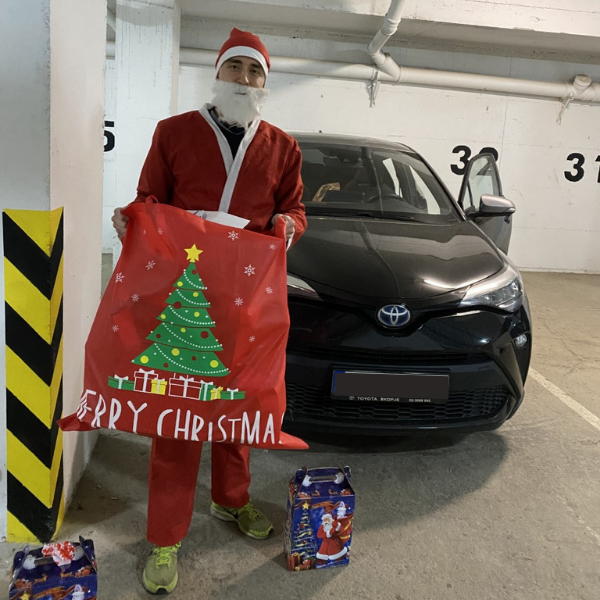 You currently work as Blue Book Trainee at the European Commission in Brussels; can you tell us a bit more about the job you do?
Even though I was practising national law in a non-EU country after graduating, I used every opportunity to do EU-related work and research. I read and wrote articles, attended summer schools and worked on projects involving EU law. The goal for many young lawyers interested in EU affairs is the traineeship programme of the European Commission. Likewise, this has been my goal for a few years, and I am glad that I have been selected for this traineeship. I believe most of the trainees feel the same way.
The traineeship is incredibly well organised and is a great experience, both professionally and personally. I am a trainee in the Legal affairs unit of the European Research Council Executive Agency (ERCEA). This Agency was established by the European Commission to execute the annual ERC work programmes, currently as part of the EU Framework Programme for research and innovation Horizon Europe. In essence, I am doing exactly what I have studied for. I read primary and secondary EU law, such as the Treaties, regulations, rules, guides, procedures, judgments and other acts on a daily basis. Together with my supervisor and the other colleagues, we apply these acts in the best interest of both the individuals and the Union as a whole.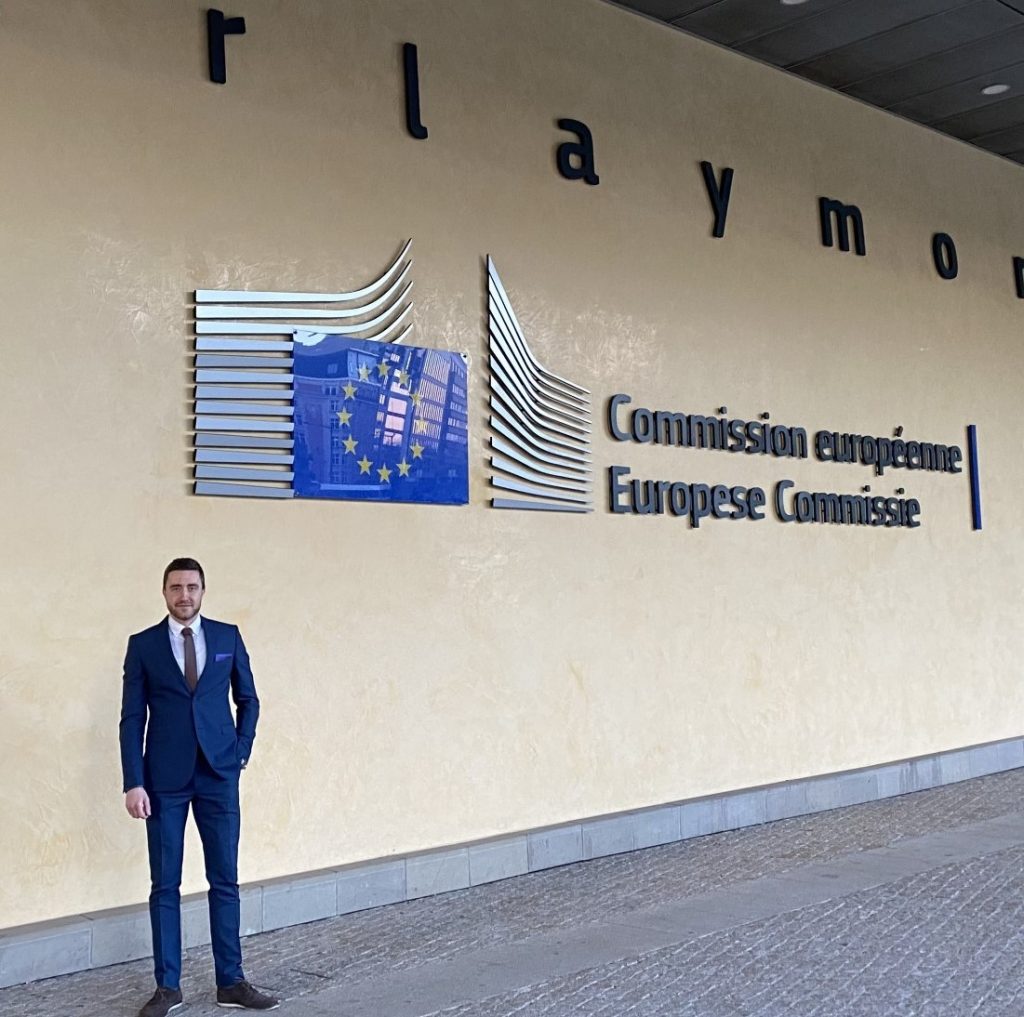 Apart from working, you can get involved in other activities related to the traineeship. For example, there is a Trainees' Committee where you can have an active role, or you can become a Spokesperson of the trainees in your unit. I am the Spokesperson of the trainees at ERCEA, and I am very glad I applied for this position, because it allowed me to communicate with different sectors within the Agency, and to contribute to the quality of the traineeship.
The traineeship also has a social aspect and there are many leisure activities that you can participate in. There is definitely something for everybody, and you get to meet many people from around the world. In addition, if you especially like a certain activity and you are organised, you can become a coordinator of that group. For example, I am the coordinator of the trainees' Hiking group and we organise a hike every Sunday. Belgium certainly has some nice forests, but I would add a bit of altitude, if you ask me! 🙂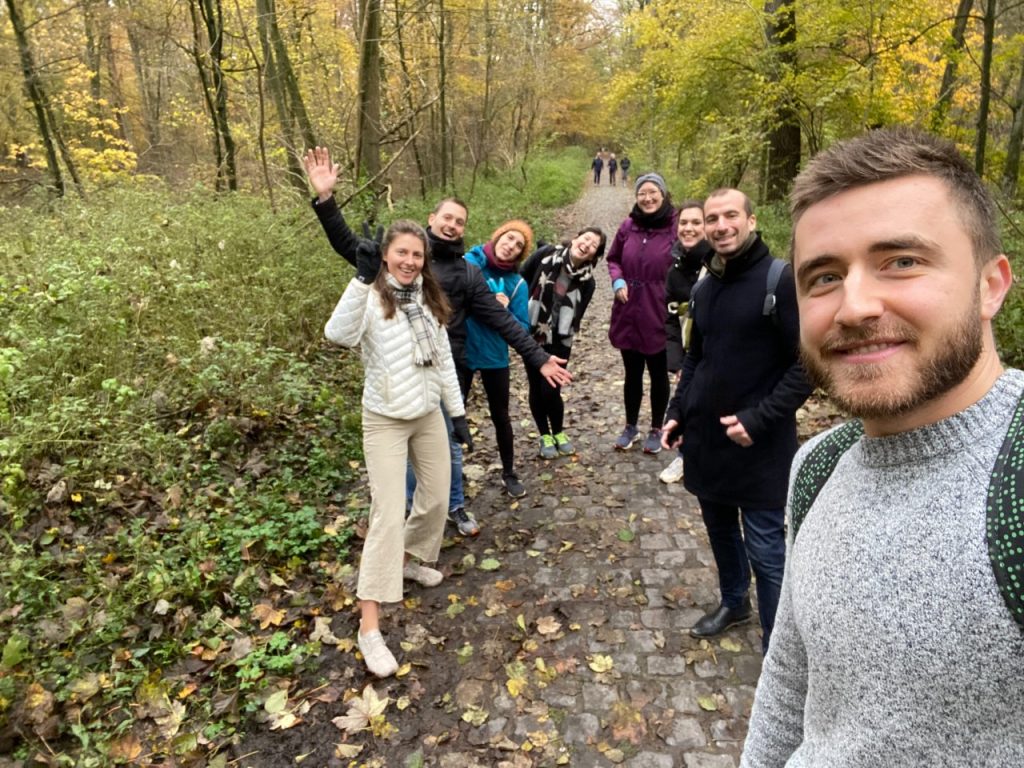 After your graduation, you worked for some years in North Macedonia at a law firm, before moving to Brussels. From your experiences, what is your best advice about starting a career in a new country?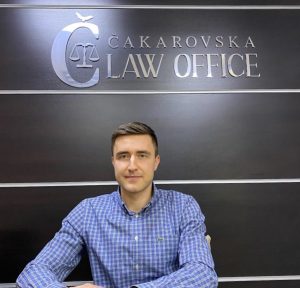 Take it easy. Progress takes time. I know first-hand that taking too much upon yourself does more harm than good. People had high expectations of me immediately after graduating, which added to the initial shock of returning from a longer stay abroad. You may have an international network, but may still need to expand your local network. You may need to build your local reputation as a reliable and trustworthy professional. The general advice is to get involved in as many activities as possible. Start from a lower position if needed, but make sure your knowledge and skills are appreciated.
In this regard, I started from a lower position at the law office in Skopje, but I quickly progressed. Graduating from a world-class university, I was on the fast track of progress, but I never took shortcuts. I felt that starting at a lower position made me more confident as I gradually engaged in more responsible and demanding activities as a full-fledged attorney. In my four years of professional experience, I am certainly satisfied with what I have achieved.
How has your time as a student at Lund University influenced your life?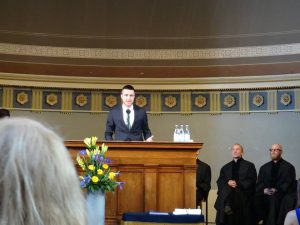 Being a student at Lund University was an incredibly positive experience. I am not speaking just about the high-quality education – there are also the gained skills, the international network, and the personal growth. All this has shaped my future career, which has so far been nothing but versatile and prosperous. The environment at Lund University is international and it definitely gave me a different perspective on life.
Still, it is up to every student to use the opportunities for growth. I have used many of them: I was part of the student ambassador programmes, wrote an article for Lund Student EU Law Review, was part of the team that represented Lund University in the European Law Moot Court Competition (and reached the finals in Luxembourg!). I am certain these activities made my application to the European Commission stand out. I also had to honour to be student speaker at the graduation ceremony, as you can see below 
If you could learn one new professional skill during 2022, what would it be?
In my four years' professional experience in law, I have noticed that many lawyers have high cognitive intelligence (IQ), but are below average when it comes to emotional intelligence (EQ). I am no exception. Like doctors, lawyers deal with the (personal) problems of many people every day. In the long run, this takes its toll, and many lawyers become either emotionally numb or emotionally unstable. As a side note, they also lose clients.
This is why I believe it is important for young lawyers to start working early on their emotional intelligence, and I want to start with myself. I am already looking at several programmes. Apart from personal benefits, I am certain that high emotional intelligence will enable me to become a better lawyer, as emotional empathy enables you to establish a deeper connection with other people, including your clients.