Breakfast, for some the best meal of the day. For others, something only consisting of a strong cup of coffee. And for some, a business idea. Like for alumna Hedvig Littorin, who started her "foodie" Instagram account during her Service Management studies and released her first cookbook on healthy and tasty breakfasts in 2019.
In our interview with Hedvig, we learn about her Pop-Up Café in Saluhallen, a successful New Year's resolution and the recipe for an ideal weekend breakfast.
Q: You graduated from the bachelor's programme in Service Management with a focus on Health Management in 2017. Can you tell us what you have been up to since then?
After I graduated in June 2017, I moved back to Stockholm, and started working as a Marketing Coordinator at EF Education First. I had an internship there the summer before, which gave me a great benefit to come back to the marketing department. I stayed at EF for almost two and a half years and exactly a year ago I moved on in my career and started working as a Performance Marketing Specialist at IDEAL OF SWEDEN, where I still work.
Besides full-time work, I also run my own company Eatnlive and launched my own cook book a year ago (Hedvigs Morgonstund).
Q: What sparked your interest in healthy cooking? Where do you get your inspiration from?
I have had an interest for healthy cooking almost as long as I can remember. I am probably inspired from my family from the very beginning, but in 2013, I started my "healthy food Instagram account" Eatnlive, and I have since then been cooking and developed my interest even more. I would also say that Instagram is a platform where I get a lot of inspiration from other "foodies". I also get inspiration from cookbooks and food newspapers and articles.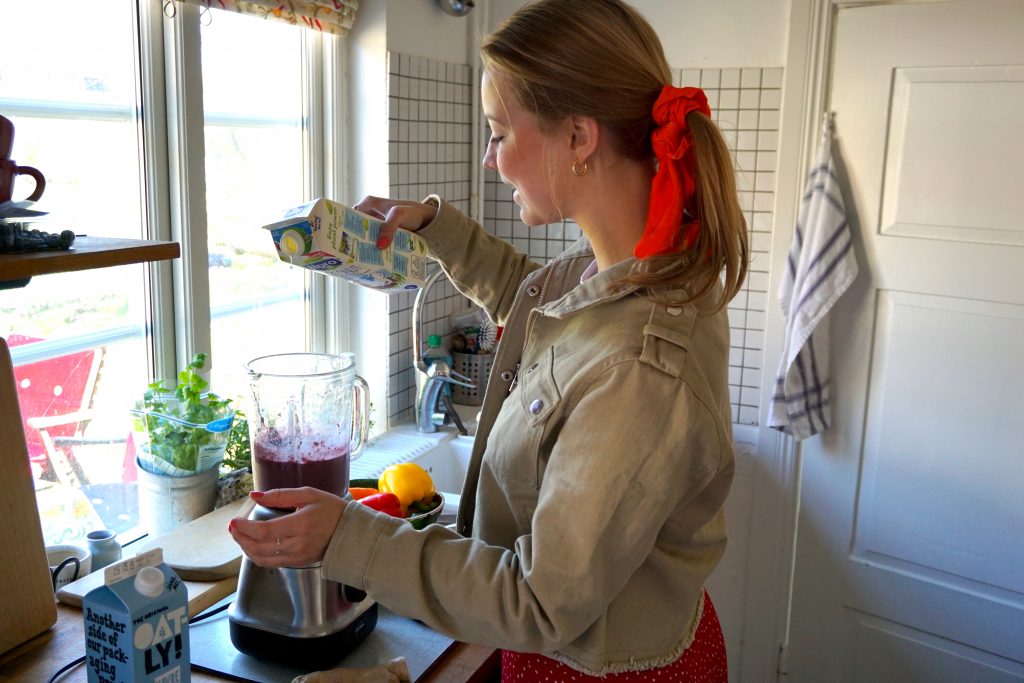 Q: How has your Lund University education been beneficial in your work and business?
At Lund University I didn't only meet friends for life and had three amazing years. I also learnt to take responsibility, work with deadlines, to structure and organize which is something I find helpful in my everyday work.
In my programme, Service Management, we studied marketing, communication, business and organization which are somethings I also find very helpful in my work today.
Q: In 2019 you released your cookbook Hedvigs Morgonstund – why did you choose to write a cookbook? And why did you choose to focus on breakfast recipes?
That is correct! I have, for a very long time, had the interest of healthy cooking and started my Instagram account 2013 where I, in the beginning, wanted to inspire myself. But today, I also want to inspire other people with healthy eating and healthy cooking, where balance is always the key! To write a cookbook is something I have dreamt of for many years.
In the end of my exchange semester in Singapore autumn 2016, I travelled to Bali and Sydney where I was inspired by juice bars, smoothie bowls, etc. I really felt that these kinds of cafés, were something that was missing in Sweden, and especially in Lund. That made me come up with the idea to open my own Healthy Pop Up Café that I opened during my last spring in Lund, 2017, in Saluhallen. Here I served fresh juices, smoothie bowls, overnight oats, raw food fika, etc. And from here I developed my ideas even more and decided before New Year's 2019 that my New Year's resolution was to launch a cookbook!
And from there it all started. My focus on breakfast recipes was a quite easy choice since breakfast has always been, and still is, my favourite meal of the day. You can eat breakfast even for lunch and dinner, right?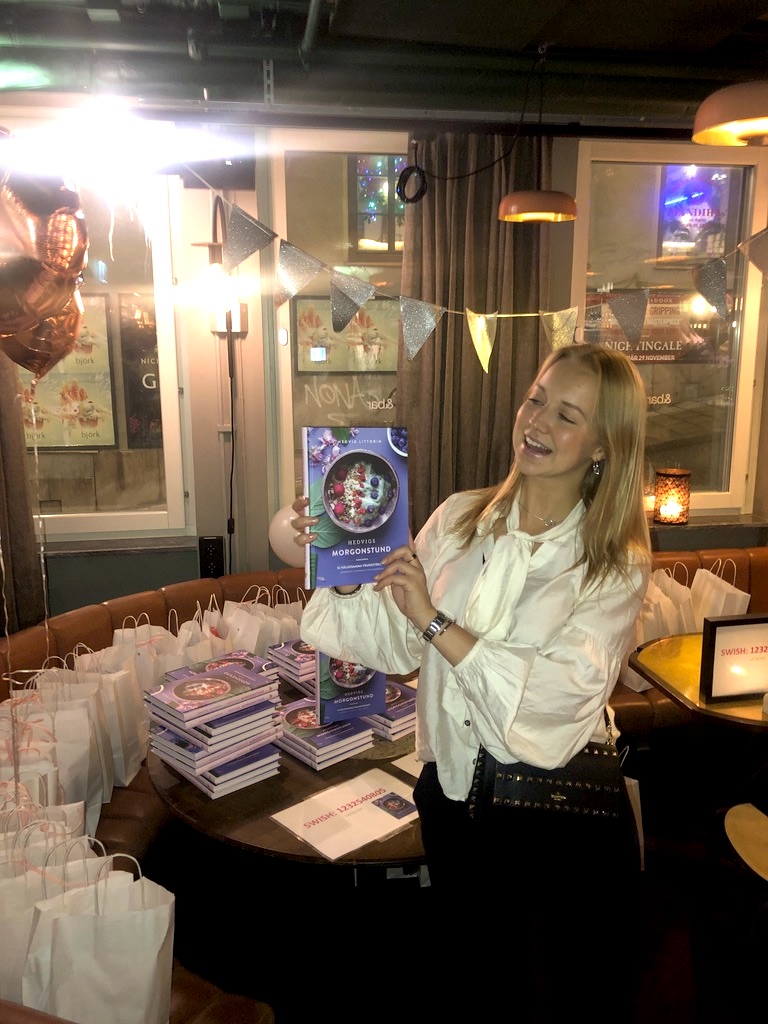 Q: Would you like to share your favourite breakfast recipe with us?
Oh of course! I have a lot of favourites, but let's give you the ideal weekend breakfast. Avocado toast, smoothie bowl topped with granola, fresh fruit berries, and, peanut butter. And a cup of coffee with oat milk. And let's give you the recipe of one of my favourite smoothie bowls, a recipe from my cookbook – "Pink smoothie bowl".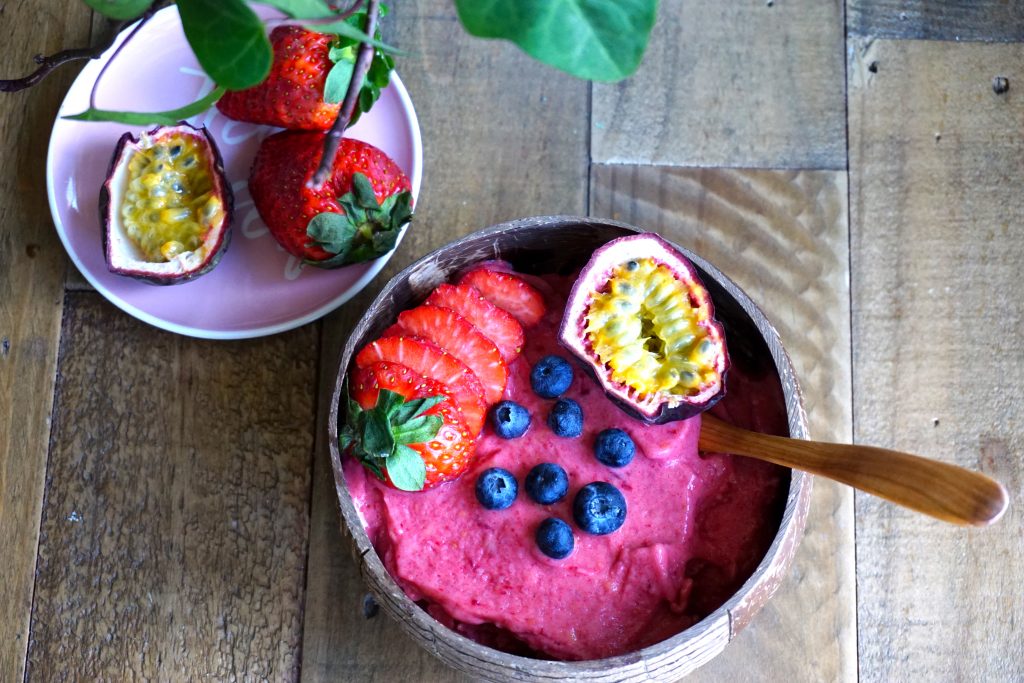 You need:
2 frozen bananas
2 dl frozen mango
2 dl frozen raspberries
½ dl coconut milk
1 tsp baobab (not necessary but give your bowl an extra boost)
Peel the bananas, chop into small pieces and put in the freezer. Carefully mix the frozen bananas together with mango and raspberries (you need a strong smoothie mixer or let the frozen fruits unfreeze a little), add coconut milk and baobab and blend with a fork – then mix again. You might need to stop the mixer and blend with the fork a few times and/or add a little more liquid to get the blender going.
What baobab is and what it is beneficial for is something you can read in my book. 😉 You can find it at www.hedvigsmorgonstund.com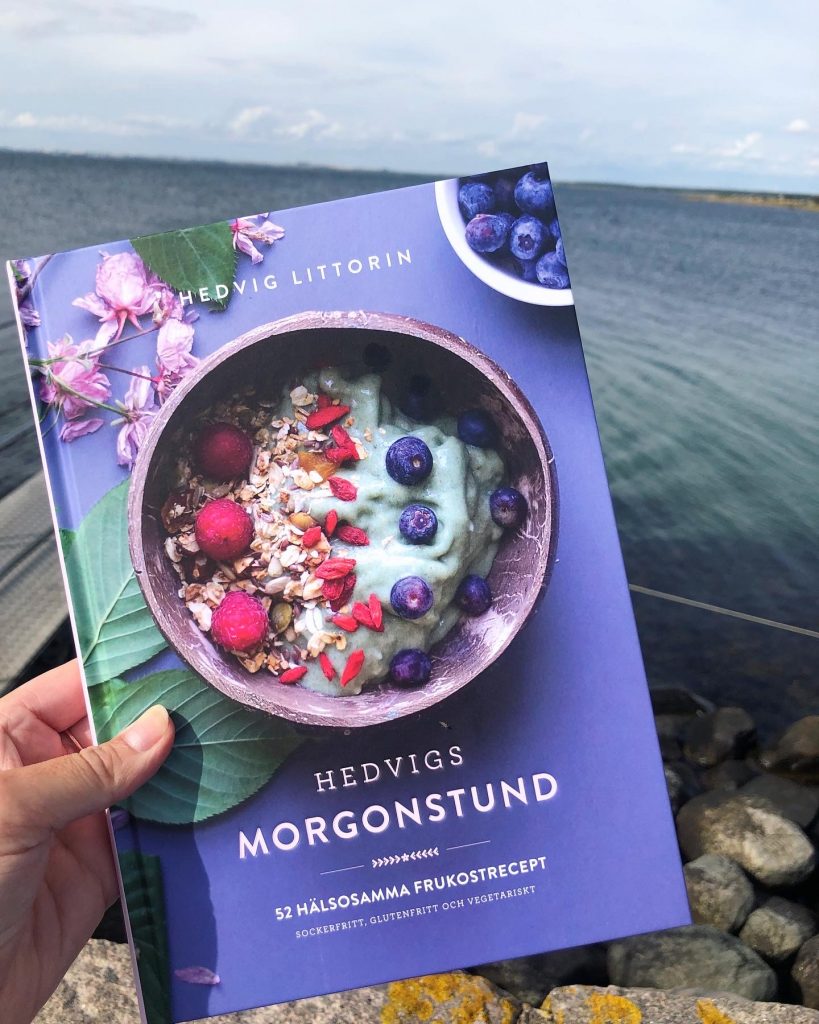 Q: You run your own company Eatnlive, how do you see your business evolving in the future? Where will you be in 5 years?
I have opened a café, I have held workshops for cafés and restaurants in Stockholm to help them develop their healthy supply, done "healthy catering" and then launched another cookbook. I more or less constantly think of what the next step will be. While I, at the same time, just enjoy having my food Instagram Eatnlive and inspire with new recipes there. In the future my dream is to be able to work with Eatnlive full-time. But exactly what the focus will be is yet to be decided.
Click here to go to Hedvig's Instagram account Eatnlive
Click here to go to Hedvig's website