Did you miss our recent webinar? Not to worry! Here's a recap and the recording to get you up to speed!
On 17 March, the Alumni Office and the School of Economics and Management arranged an international webinar focusing on career boosting tips and how to optimize your online presence.

Amongst the speakers was Stina Vikingson, from Career Services at the Lund University School of Economics and Management. She offered practical tips and tools to enhance your online brand as well as some great advice for job hunting and creating that all-star LinkedIn profile that you need to be ahead of the game. She gave us the answer as to why it is important to Google yourself, as well as helpful tips within the following areas:
– Building your professional brand
– Going online with your brand
– Networking online
– Future-proofing your skills set
– Job hunting during a pandemic
Job hunting during a world crisis
Alumnae Josefina Röckert and Sveta Mardar both shared compelling stories with invaluable tips for job hunting during a world crisis. Not only that, but they also shared how they excelled and thrived in new areas because of the pandemic.
"Don't let country barriers prevent you from looking into a new job. Go global!"
– Josefina Röckert
Josefina Röckert shared her story about how, after graduating in June 2020, she saw her dream job slip through her fingers as the position was cancelled. She was forced to rethink her options as unemployment was soaring. Josefina shared how this ultimately led her to think outside of the box and land a job in Germany, working remotely from Stockholm.
"You have to accept that you can't control everything, but you can control your immediate surroundings and how you interpret the world."
– Sveta Mardar
Sveta Mardar, an external relations strategist working at Ernst & Young in London, told the story of how the UK lockdown had given her the opportunity to start a new initiative. She created a global platform, a podcast and a blog (www.woviddiaries.com) that empowers and inspires women during and beyond COVID-19.
Following this webinar, Sveta also shared her reflections and some of her top tips on LinkedIn. You can read her article here.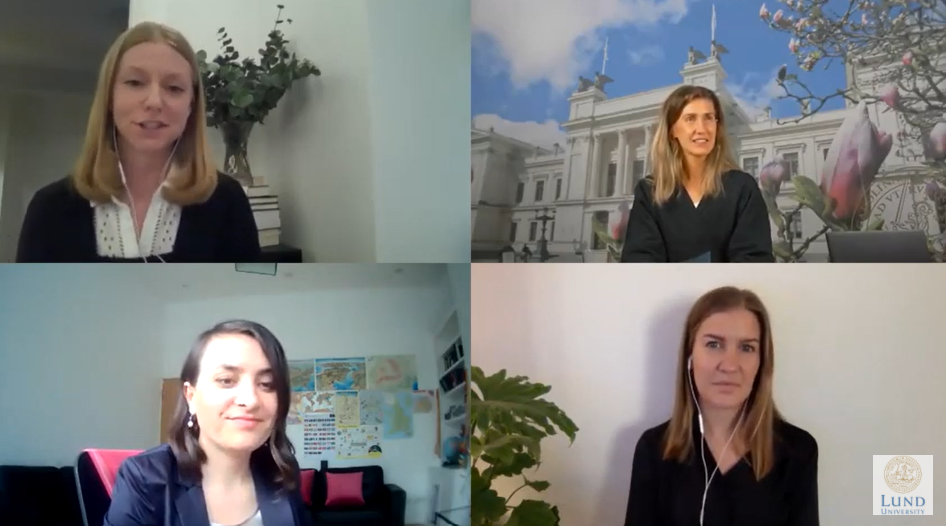 Re-watch the webinar or watch it for the first time!
Webinar: Boost your skills and brand your online presence (YouTube)
Watch this webinar at a time that is convenient for you and keep an eye out for future webinars with alumni!