… of Lund crime novel A Nearly Normal Family.
Alumnus Mattias Edvardsson's A Nearly Normal Family is a gripping thriller about how far one would go to protect loved ones. In this twisted narrative of love and murder in Lund, a horrific crime leads a seemingly normal family to question everything they thought they knew about their life―and one another.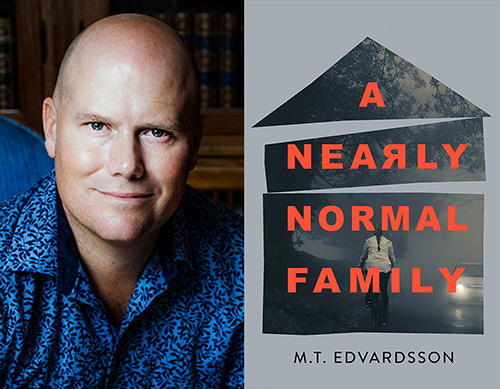 Hello author and alumnus Mattias Edvardsson! When did you study at Lund University?
– I studied literature, Swedish and psychology between 1996-2000.
Your book A Nearly Normal Family (En helt vanlig familj) has been sold in over 30 countries and has gained a lot of positive attention since the release. What is the secret ingredient in this book that makes it so thrilling?
– I don't think there is a secret ingredient, but based on what I've been told by publishers and readers around the world, it's easy to identify with the characters. In other words, the reader contemplates "it could have been me". In addition, the moral dilemma in the book is universal – How far would you go to protect your children?
Many authors don't use their actual hometowns as the setting for their books, why did you?
– On one hand it has to do with pure laziness. It's very convenient when you have the places you write about just around the corner. And then of course, I love Lund. It's a wonderful town and if I can contribute to spreading the word about it, then it's my pleasure to do so.
What is your writing process?
– I start off by creating characters that I can relate to and then I put them in a bad emotional place or in a difficult situation, which they have to handle. From there, I just start writing. I often rewrite my text many times. Over time, you get to know your characters better and come up with new ideas.
Two of your main characters in this book is a priest and another a teenage girl/young woman – how do you relate to them and how did you find their voices when creating their characters?
– I often think of it as acting. I take on the role of the character and let her/him speak in my head. It´s not easy to describe. But to create a realistic character I think I have to put some parts of myself, my feelings or thoughts, in it. Human beings tend to have very much in common, regardless if we are 18 or 40, a priest or a construction worker, woman or man.
A part from being an author, you also work as a teacher; but did you always know you wanted to write books?
– I have dreamt about becoming a writer since I was five or six years old and I have written since then. I have previously published novels and books for children and young adults, but A Nearly Normal Family gave me a big breakthrough in Sweden and internationally.
There are rumors that this book will be made into a Hollywood film. What can you say about that?
– The rights are sold and a producer and director are involved, but it's a long process and I am not really allowed to tell anyone. Oops.
What are you reading yourself this summer?
– I just finished Celeste Ng's fantastic novel Little Fires Everywhere. Now I'm looking forward to my Norwegian colleague Geir Tangen's new crime novel Heartbreaker.
Text: Helga Heun
Photo: Caroline Ann Andersson