High heel shoes are a fashion phenomenon that inspire wonder. Why is it that these shoes, in particular, have come to be synonymous with femininity and seduction? A look back in history reveals that they have not always been gender-coded in this way. High heels were once associated with masculinity and power at the highest level.
Heels affect both how you feel and how you are perceived by those around you. Just like many other objects of fashion, this creates a paradox. High heels give you confidence, signal power and sexuality. They radiate luxury. Anyone who can move freely in them must live a rarefied life far removed from humdrum everyday tasks; unsuitable for walking long distances, they signal a lifestyle of elegance. At the same time, women in high heels can be seen as unsteady, helpless and voluntarily constrained.
---
Yes, it did start with functionality
Although high-heeled shoes may seem impractical, it was for their functionality that shoes were first fitted with heels. Life became simpler for Asian horsemen once heels provided a firm grip on the stirrups.
High heels became an important part of Western male fashion in the late 16th century. The inspiration may have come from the Persian embassies that came to Europe to forge political alliances. The short, puffy trousers of Spanish fashion placed particular emphasis on men's legs as they were displayed in tight-fitting silk stockings and elegant high-heeled latchet shoes with large rosettes known as shoe roses.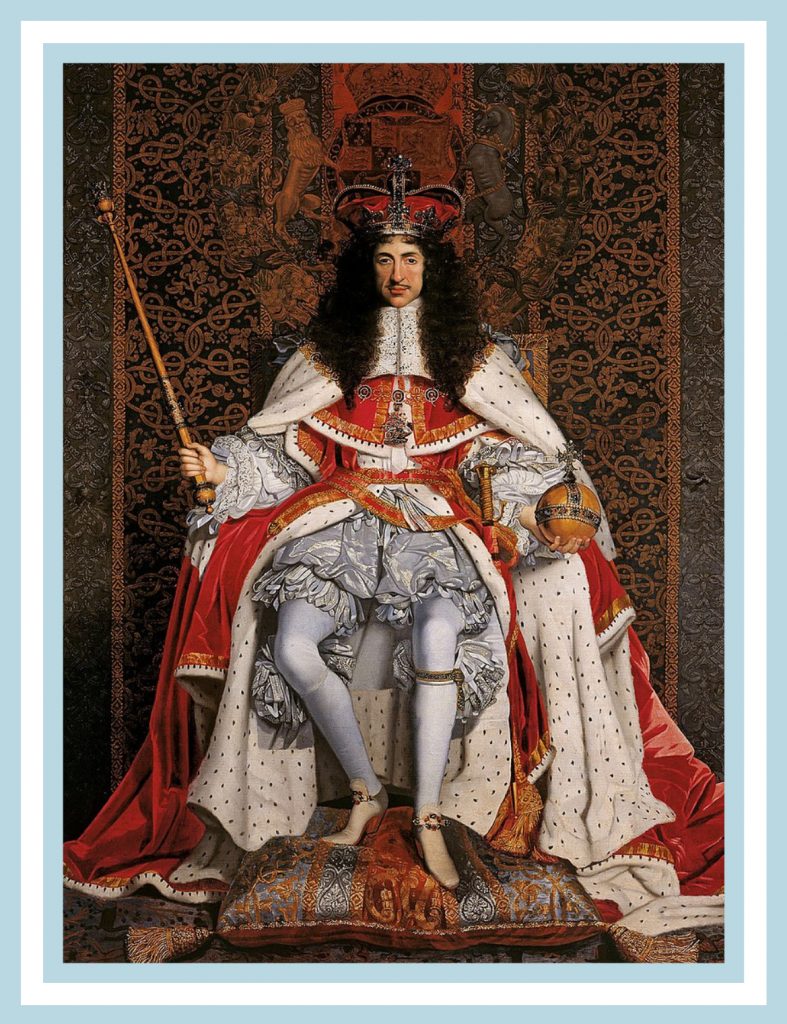 Long, strong, slender legs, which were often portrayed in portraits with one from the front and one from the side, emphasised prowess in activities such as fencing and dancing, yet without any suggestion of the toil of real labour.
The high heels were regulated by sumptuary laws
During the Thirty Years' War (1618-1648), military influences made themselves felt in portraiture. Even the bucket-topped Cavalier boots turned down below the knee and lace-adorned boothose had high heels.
Lace, embroidery, plumes, patterned silk fabrics, jewels that to a modern observer might appear far removed from ingrained ideals of masculinity, were perceived by contemporaries as symbols of power and bravery in dress comparable to bravery on the battlefield. High-heeled shoes were part of the power dressing designed for princes and aristocrats. The fact that the French King Louis XIV was short in stature probably contributed to his fondness for tall, curly wigs and high heels. Red heels became a special privilege that distinguished the King's courtiers, the height of which were regulated by sumptuary laws.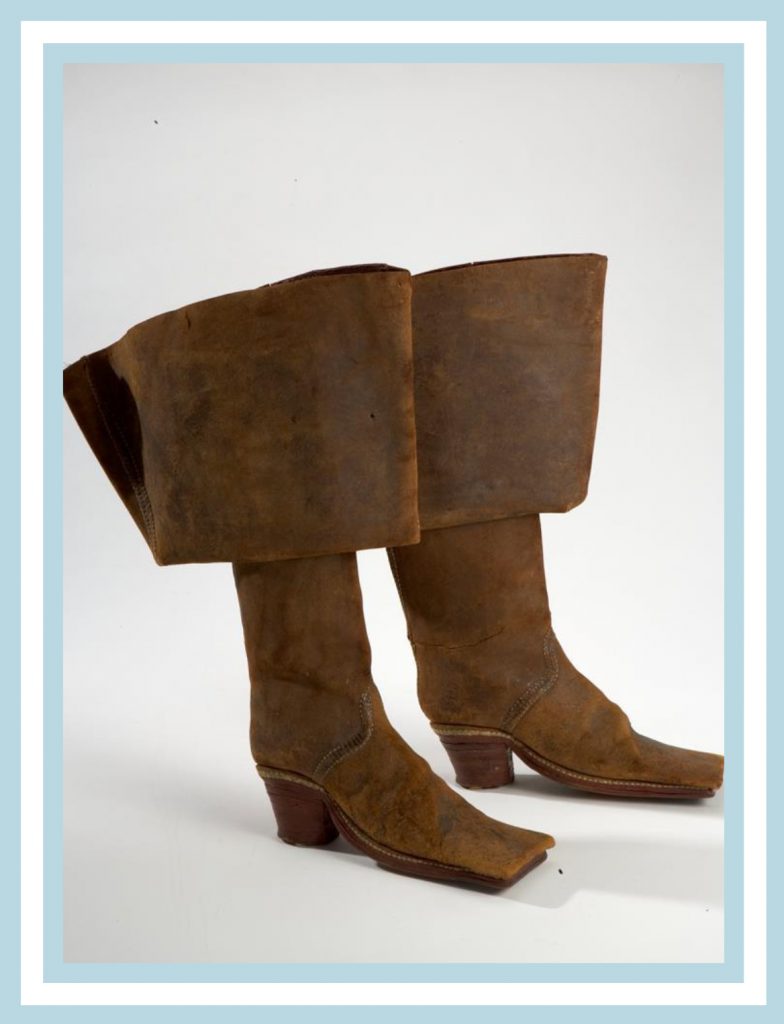 Exposed legs were a male attribute. Women's legs were always covered by long skirts, yet 17th century female fashion was influenced by what men wore in the form of masculine hats and high heels.
Impractical and exorbitant garments were an important part of how early modern elites manifested their elevated status.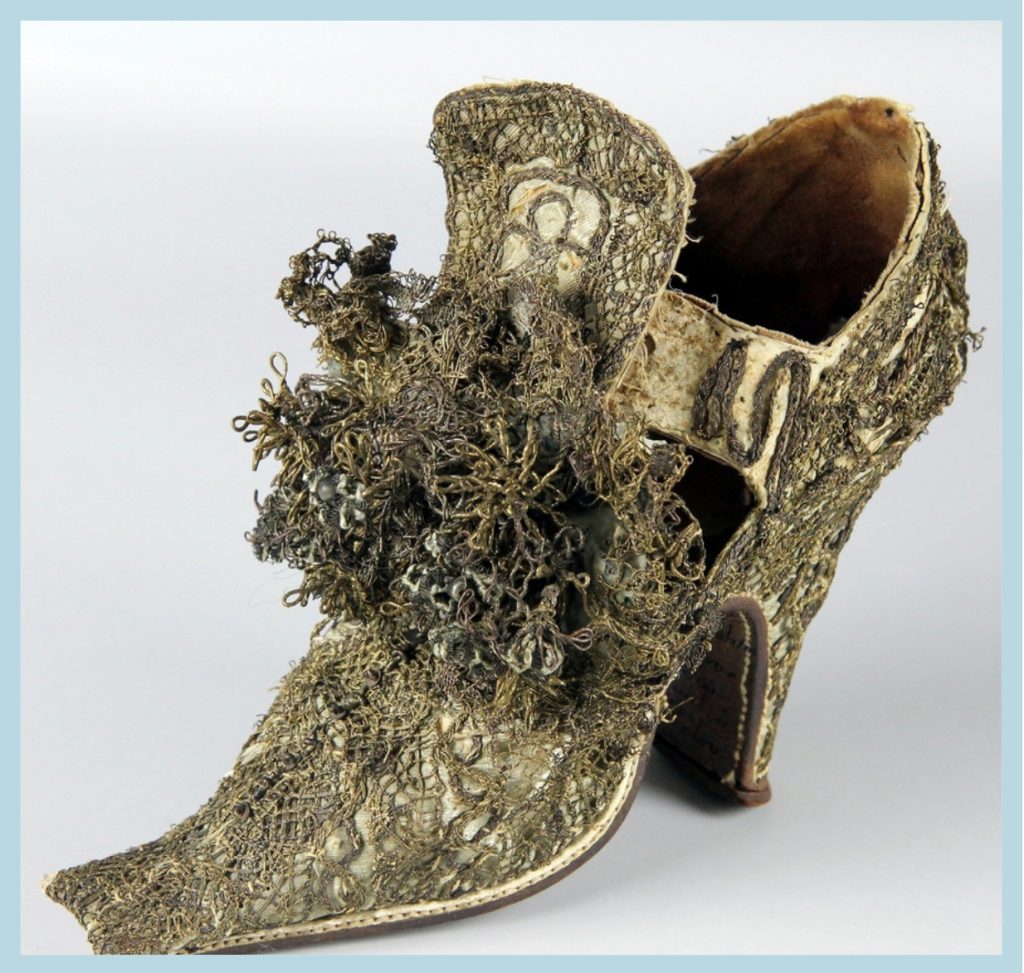 The social order demanded visible differences between people of different estates – erasure of these differences would have been socially destabilising.
Platform shoes and chopines in the 17th century
The platform shoes worn by women in Spain and Italy in the 15th to 17th centuries proved to be another important influence. Perhaps the most famous example is the Venetian chopines, which could tower as high as 35 cm. This was originally a type of wooden shoe with a high sole that was worn on top of ordinary shoes to raise the wearer above the dirty, waterlogged streets. In the 17th century, they became a luxuriously designed piece of fashion.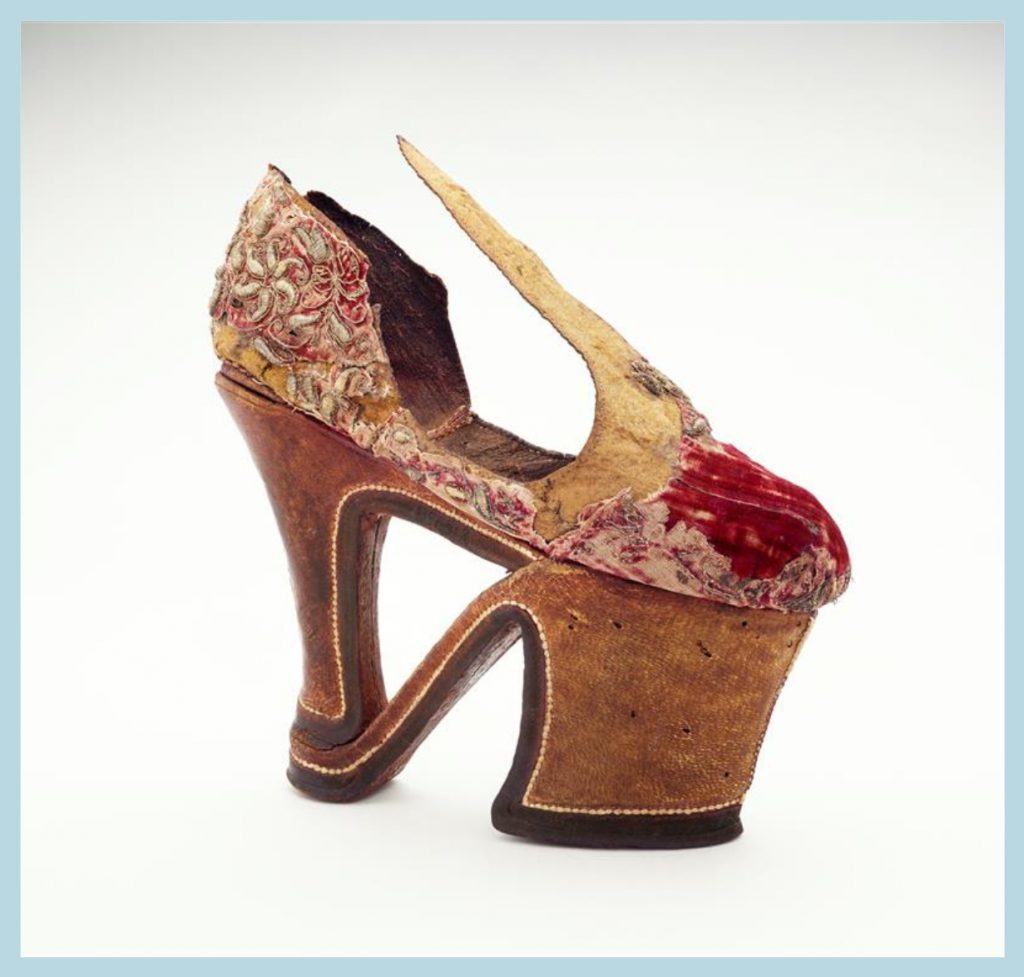 The 18th century and female irrationality
During the 18th century, interest in men's shoes waned while other aspects of dress came into focus. Shoes with high heels that were narrower and more difficult to manoeuvre in became more common for women. Ideals changed and heels became more associated with female irrationality than male prowess. Under the influence of Enlightenment thought, political capacity came to be seen in direct conflict with ostentatious dress, while women's fashionable attire rather came to manifest their lack of political power. This is despite the fact that the 18th century continued to be strongly influenced by notions of the clear links between social status and clothing.
Heels named after the French King's mistress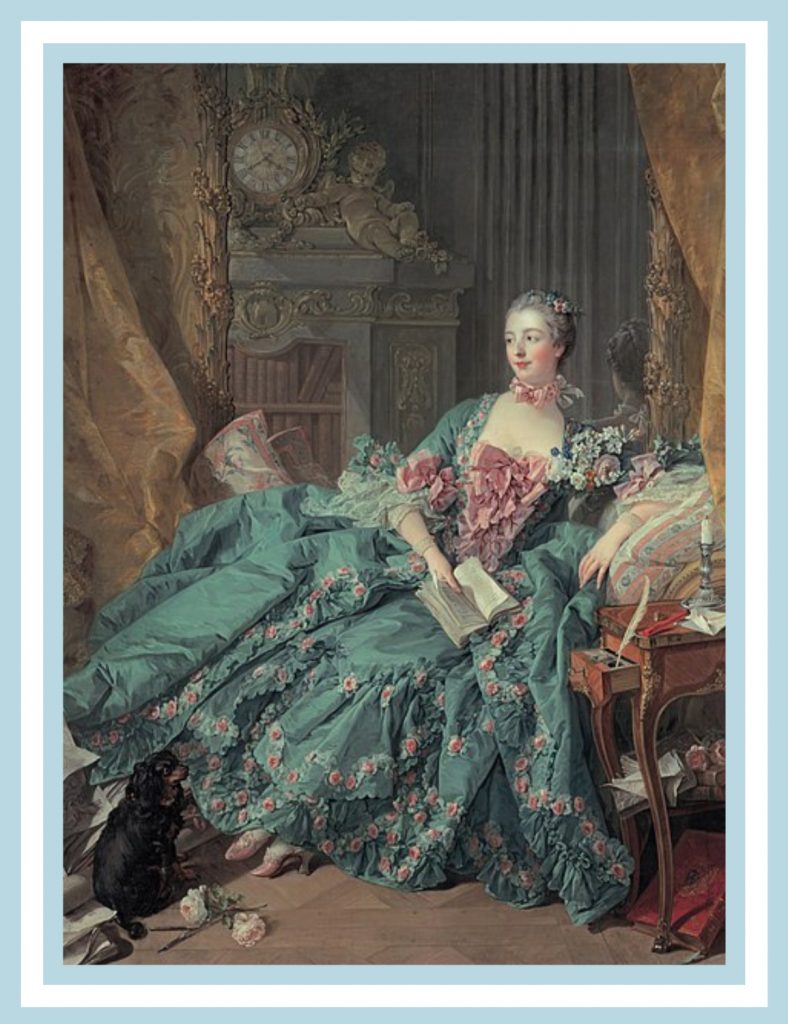 High-heeled shoes were worn to accompany the bulky fashions of the 18th century, which shaped the female body with laced-up corsets made with whalebone and enlarged hips with the help of skirt-supports. Shoes, covered in patterned silks or heavy metallic embroidery, matched the dresses. Mules with no backs or latchet tie shoes dominated footwear fashion.
The heel breast– the forward-facing side of the heel – was often curved under the foot, a shape later known as pompadour heels after the French King's official mistress Madame de Pompadour.
Heels were higher during the first half of the 18th century, only to go lower during the second half. Together with the rest of a person's attire, shoes provided a particular balance and posture to the body central to the complex pattern of movement that distinguished the upper classes from the hunched backs of the working class of the 18th century.
The body was supposed to sway lightly and movements be fluid, neither too quick nor too slow. Everything was carefully rehearsed but was supposed to be carried out effortlessly and naturally. The swaying gait of the French queen Marie Antoinette, even in her heavy court dresses with metre-long trains, became the ideal. During the 18th century, consumer culture grew stronger and fashionable clothing became more available in the cities.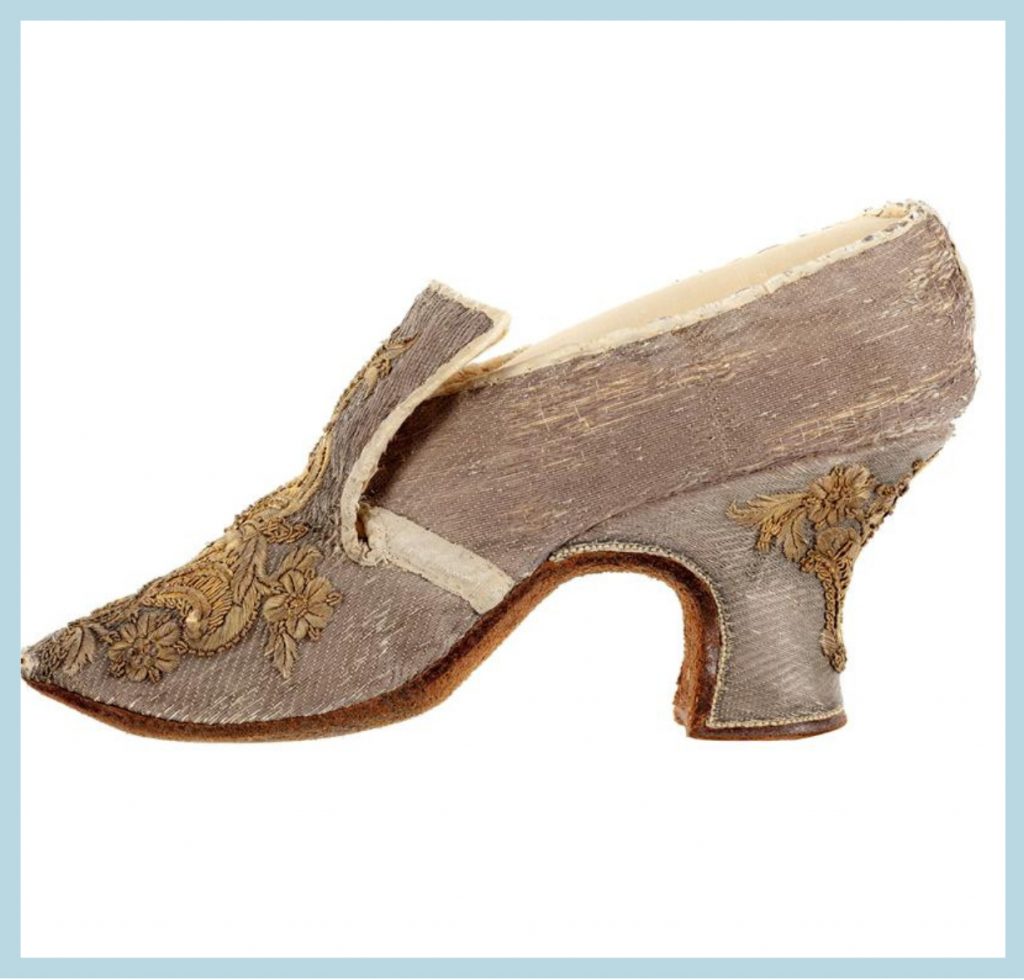 Taking lessons from a dancing master to practise the correct movements, including the art of walking, was a less easily bought skill and therefore the ultimate aristocratic status symbol.
The erotic undertone of the high-heeled shoe was strengthened during the 19th century
After a long period of flat shoes, inspired by more bourgeois ideals in the first decades of the 19th century, by the mid-19th century high-heeled shoes were once more in fashion, both on everyday ankle boots and evening shoes. Long, heavy skirts with bustles at the back hid women's legs, but their gait was still supposed to be delicate, their posture upright and the protruding foot small. High heels were a visual trick that gave the feet a daintier appearance. Women's feet became alluring, and the erotic charge of the high-heeled shoe was reinforced by its role in the pornographic photographs of the time.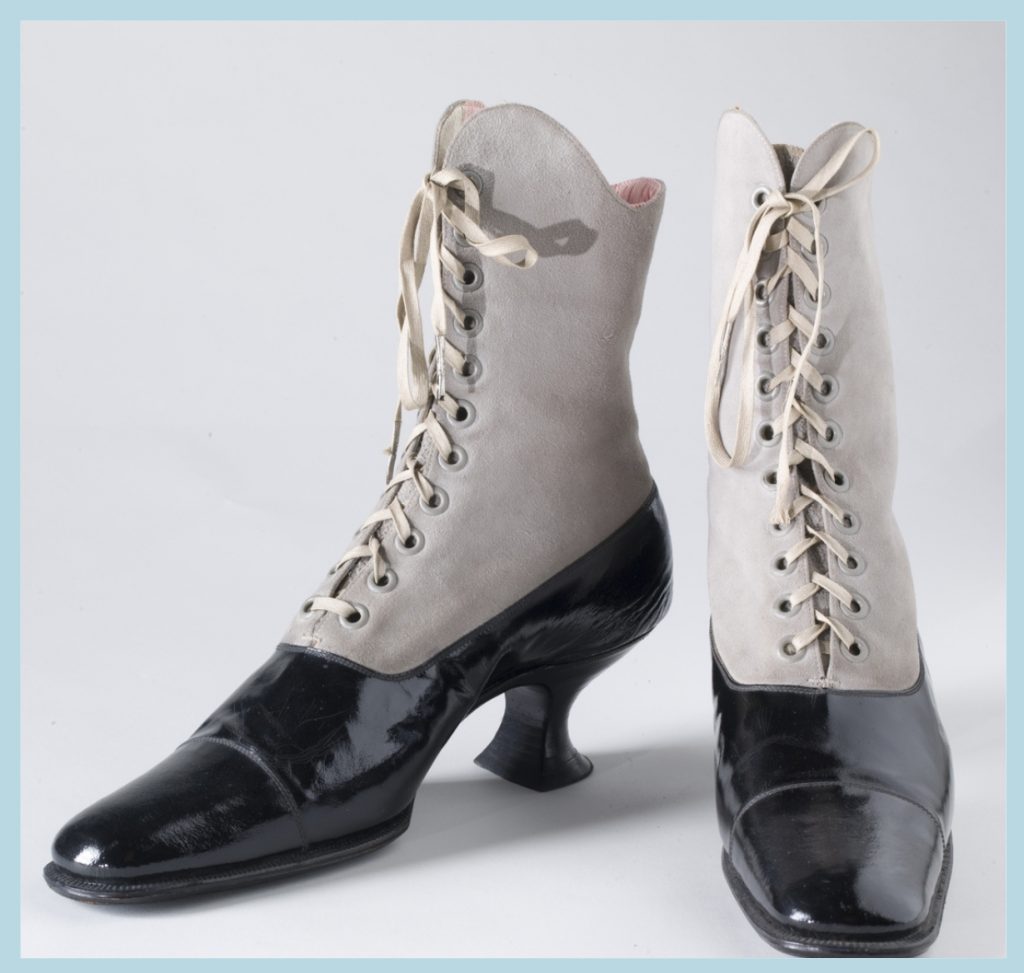 High-heeled shoes, an unattainable luxury
Specially designed sewing machines with several technical inventions transformed shoemaking, making shoes cheaper and more accessible to a wider market by the mid-19th century. In the countryside, however, shoes remained a rare commodity. Well into the 20th century, children in Skåne still went to school in rough, straw-filled wooden clogs and in the summer they went barefoot. It is easy to understand why high heels were an unattainable luxury. Sweden's path to becoming a modern society was, in part, through industrially produced footwear. In the 1930s, there were over 300 factories providing the Swedish people with shoes.
Renewal in the shape of the heel
With shorter skirts in the 1920s, women' legs came into focus in a whole new way. Fashionable attire was completed with elegant, shapely legs clad in silk stockings and high-heeled shoes, often with a t-shaped latchet or double straps across the ankle. Stocking seams extended the line from the heel and drew the eye up the legs. Interest in shoe design grew with renowned designers such as André Perugia, responsible for the shoes for fashion designer Paul Poiret's garments. Imaginative, innovative and inspired by the fashion and art of the time, the shoes became sculptures. Experimenting with the shape of the heel became a way to renew designs, such as the wedge heel of the 1930s by Salvatore Ferragamo.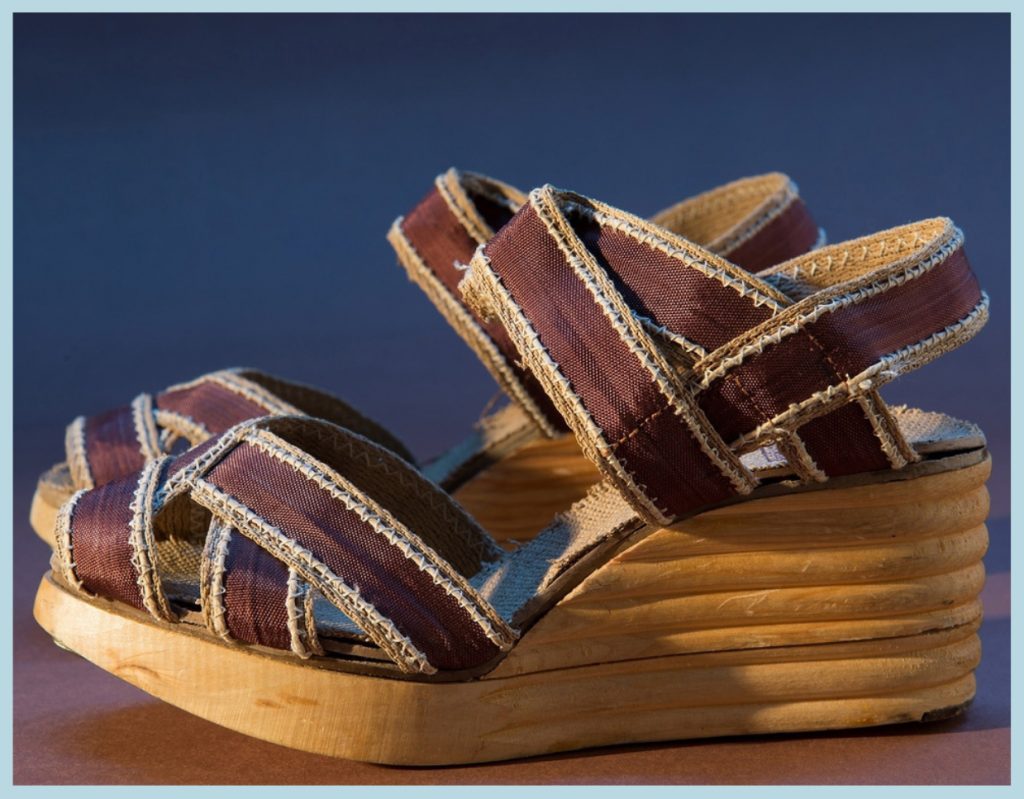 Christian Dior and "the New Look"
After the Second World War, Christian Dior launched the "New Look". Shoes with stiletto heels were worn with the provocatively full skirts of the 1950s. High, narrow heels became possible with a metal rod embedded in the plastic heel. The fashionable shoe designer Rogier Vivier collaborated closely with Dior.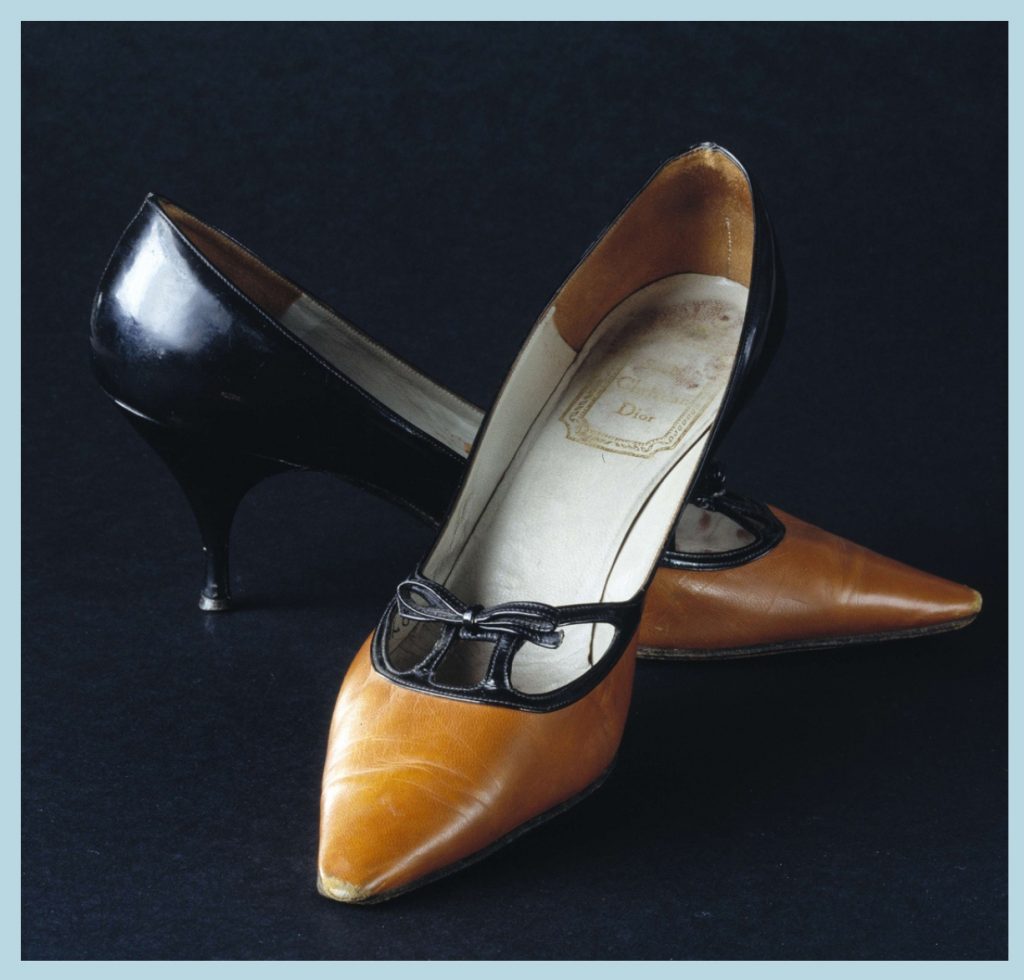 Through stills, the film industry with its sexy, busty movie stars, spread the new fashion ideal effectively. On the silver screen, everyone could see their idols up close, what clothes they wore and how they should be worn. Department stores shortened the path to consumers. Narrow stiletto heels and pointed toes were now the order of the day, even though they could leave unsightly marks on parquet flooring or easily get stuck between paving stones. Marilyn Monroe's favourite shoe was a Ferragamo model with 11 cm high heels.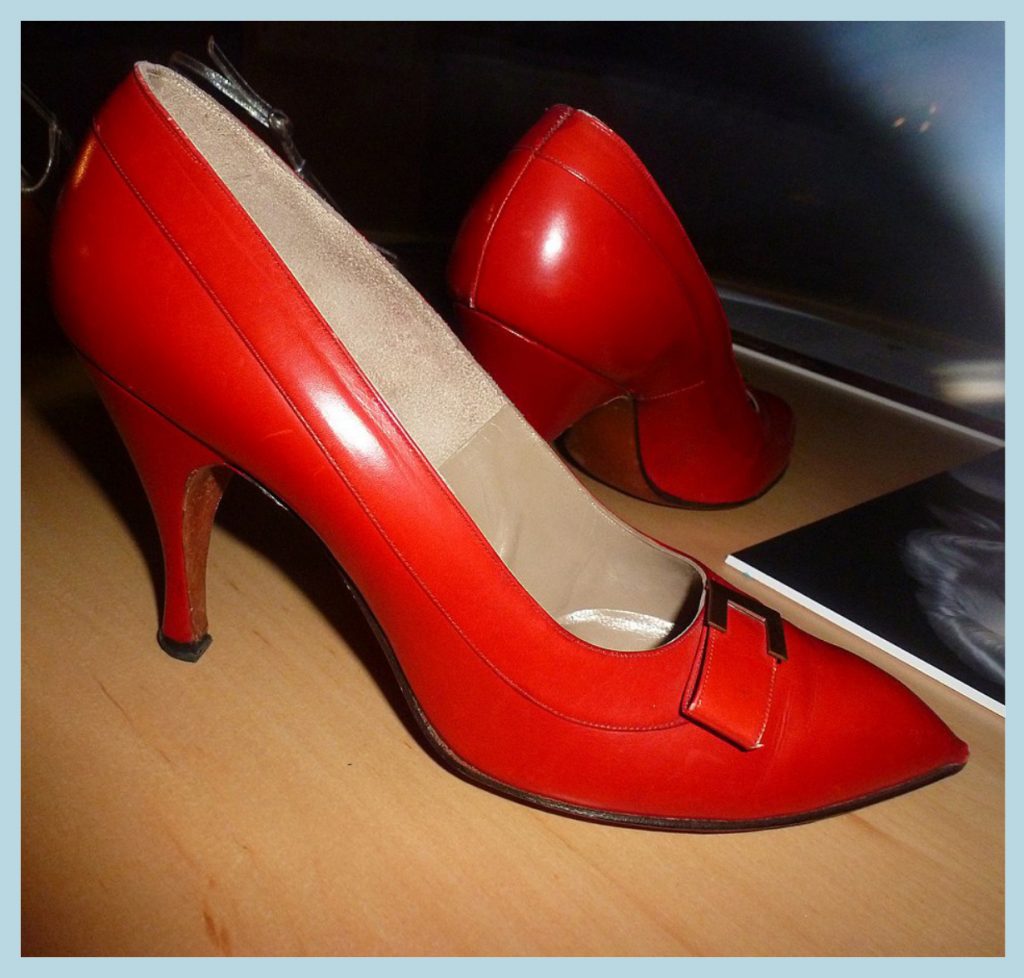 The fast way to a man's heart
For the "everyday film star" promoted by the corset industry, stiletto heels were another must. The high heel was thus more widely worn than before, and now tottering on high heels was now added to the general expectations placed on women.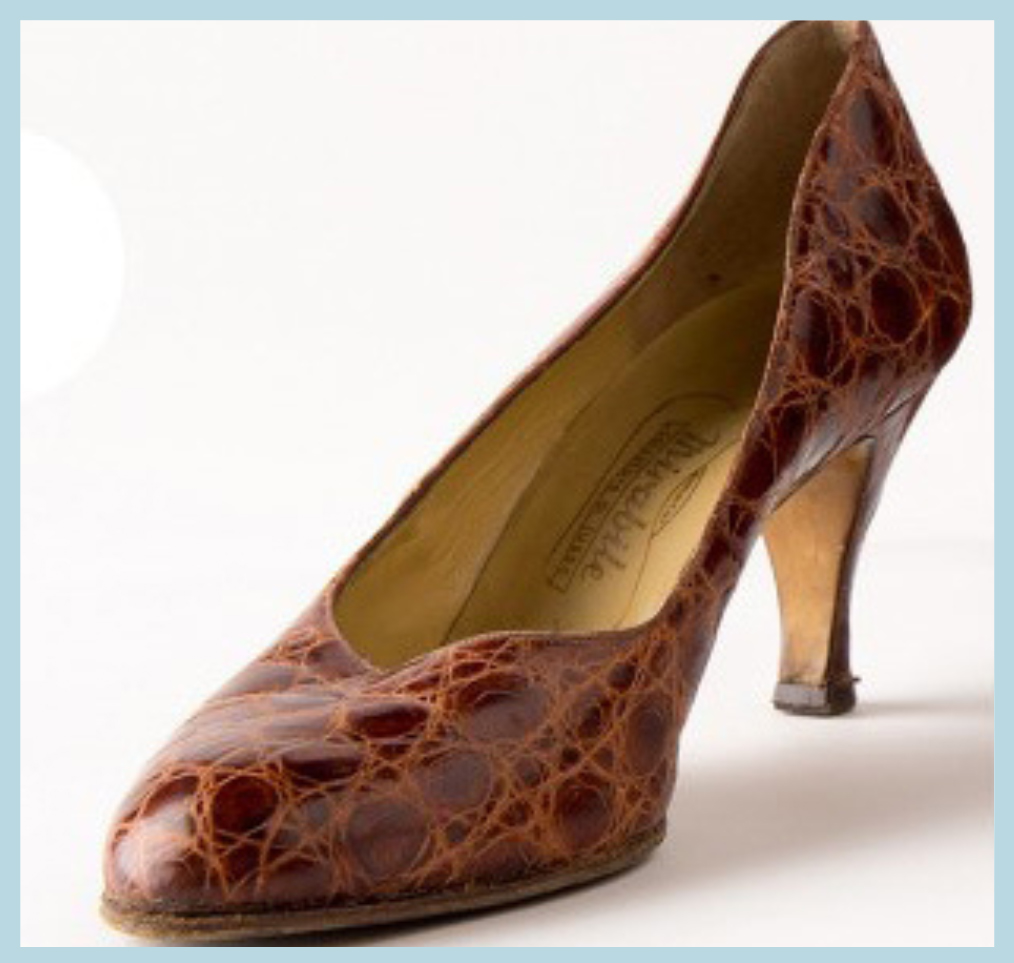 No woman could consider herself properly dressed without a corset, hat, handbag, gloves and high-heeled shoes – shoes that were also marketed as the way to a man's heart. The 1950s style of shoe set a standard that is still very much relevant today.
Pop stars challenged the traditional gender norms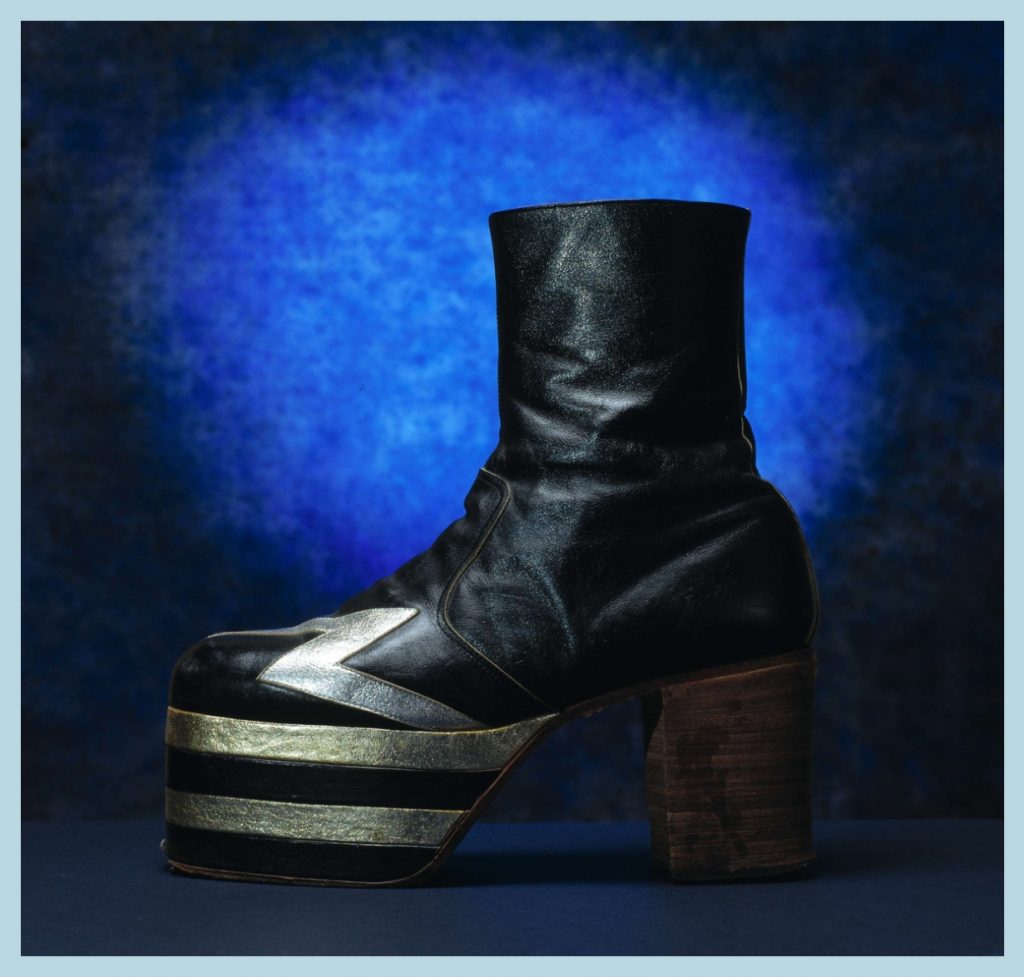 With the 1960s and 70s focus on more youthful, natural fashion and women's equality, fashion ideals for women were seen as oppressive and archaic. Like shaping underwear, high-heeled shoes lost popularity. At the same time, heels came into focus in new ways, with artists such as the Beatles, David Bowie and ABBA performing in high stack heels and challenging traditional gender norm.
Carrie Bradshaw and Sex and the City turned "Manolos" into a turn of phrase
To the power dressing of the 1980s, with wide shoulder pads and a new vision of financial success and luxury, high-heeled shoes and boots also brought added sex and potency to fashion. The high heels that had been part of the housewife ideal were now proving successful in the world of work.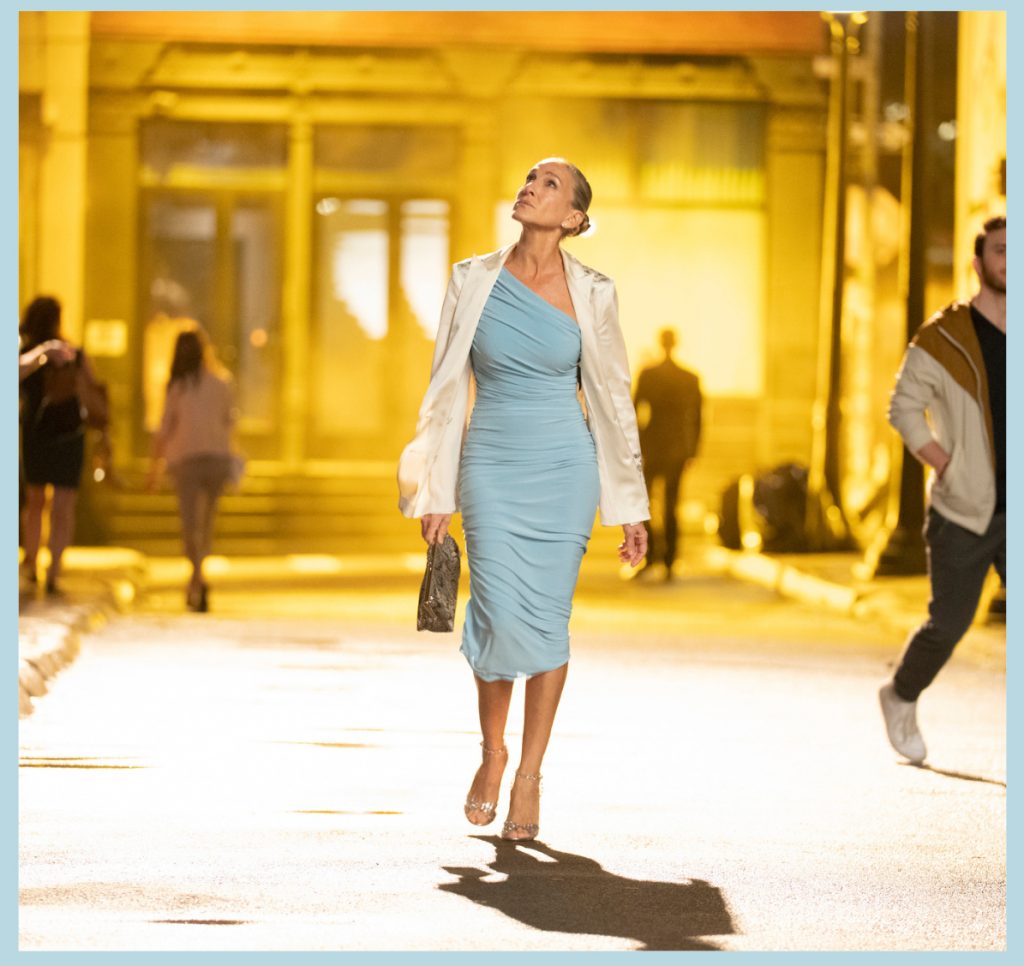 In the 1990s and 2000s, a new generation of shoe designers such as Manolo Blahnik, Jimmy Choo and Christian Louboutin became well known for their glamorous high-heeled shoes. The TV series Sex and the City turned "Manolos" into a turn of phrase. At Louboutin, the heels towered ever higher and their red soles made the shoes easily recognisable.
Even established fashion designers like Vivienne Westwood have include pioneering shoe designs in their collections. Naomi Campbell's fall during on the catwalk of Westwood's show in 1993 is legendary.
Today, when overconsumption, luxury, stereotypical representations of gender and bodies and the existence of fashion itself are under discussion, our relationship with high-heeled shoes is multifaceted. This autumn's fashion weeks showed that shoe design is a vital part of fashion. Models striding in high heels at Valentino swayed, wobbled and fell most involuntarily, revealing glamour as sullied and detached from the world.
Swedish Beate Karlsson of AVAVAV, known for her boundary-pushing, animal-like shoes, parodically let all the models fall like ninepins during her show instead.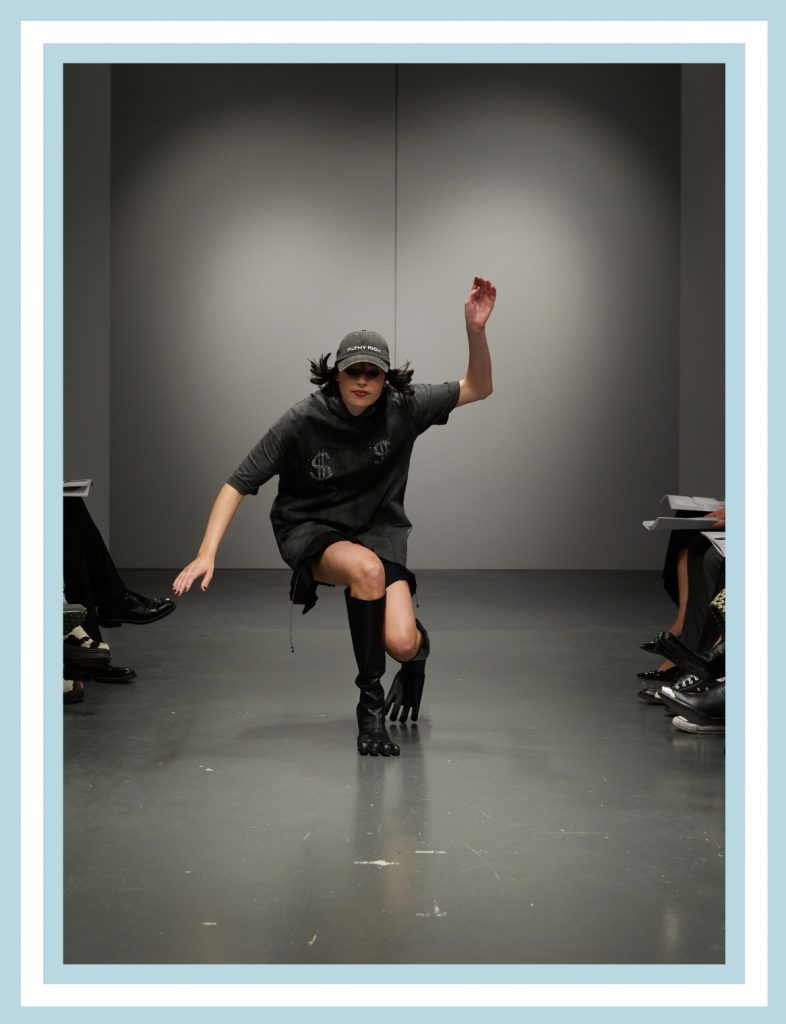 When wearing high heels is a matter of choice, the joy of fashion also increases
Old conventions linked to shoes, status and luxury are being challenged. For women, sneakers can now be worn in the most formal of settings. When wearing high heels is a matter of choice, the joy of fashion also increases. At the same time, traditional cultural conventions persist. Men in heels, balancing on their toes, are mostly only seen on the dance floor.
Probably not that many men in heels at the Christmas party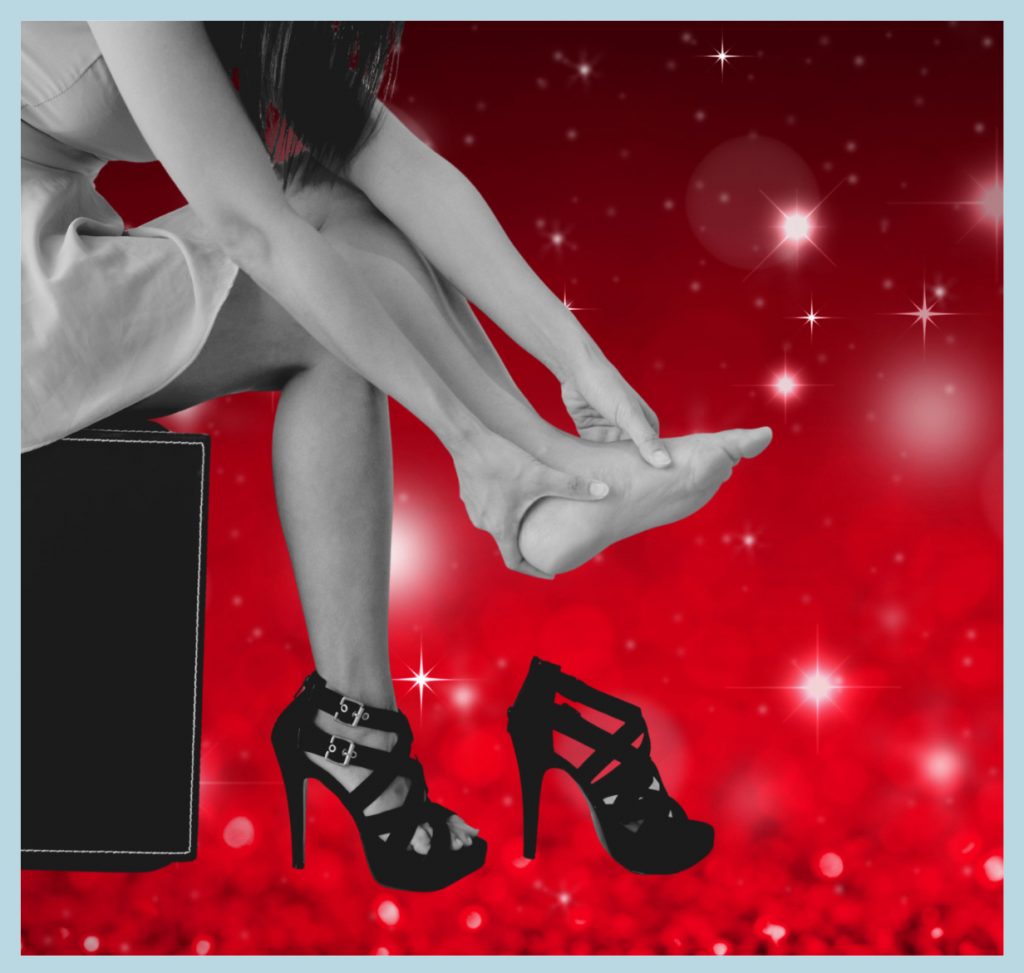 Height and power are still linked, which, in their time, both Prince Charles and France's then-President Nicolas Sarkozy handled in a conspicuous way. Fashion is about renewal and is said to reflect its time, but nevertheless is also impervious to change and conservative. As long as high heels themselves are not imbued with new cultural significance, we seem a long way off seeing men in high heels in Swedish urban environments or at the annual Christmas party.
---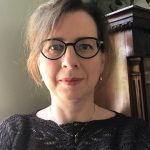 Text: Pernilla Rasmussen, Fashion Science
Author's Christmas gift tip:
Shoes – an illustrated History by Rebecca Shawcross.
More about Fashion science at Lund University
Fashion science is a theoretical and humanistic subject with social science elements. The subject is aimed at those who are interested in gaining a deeper understanding of the situation in both the past and present.