This time in our "alumni around the world" series, we meet Rebecca Alfaro. She is the first student who has achieved a Master's degree in Gender Studies as a part of the Global Masters program between Lund University and University of Denver. Rebecca is now living in Denver, where she works for Planned Parenthood as a Development Assistant. Learn more about her experience in Lund, her engagement in the student organisation Project Sex and why she chose to pursue Gender Studies.
Q: How does it feel to be one of the first to achieve a Global Masters? 
– I will always be grateful for the experience of being the first to earn a Gender Studies degree as part of the Global Master's program. It was a thrilling experience that I will never forget.  I feel very accomplished as a woman with a Master's degree from Lund University, but also sad that my time at LU has come to an end.
Q: Why did you chose Gender Studies as your field of study?
– I have studied the gender studies field since my time as an undergrad at the University of Denver. I absolutely love gender studies, and always found it to be one of the subjects that always kept me interested and wanting to learn more. As a Chicana, I have always found myself leaning towards subjects that focused on people of color, especially women of color. I hardly ever learned about Chicana and Mexican-American history in my U.S. courses. Through gender studies, I could explore where I come from, and where my family comes from and the histories that have led to where we are now. I hope to use my Master's in gender studies to help other women and individuals learn their histories in a way that can empower them.  
 Q: You graduated quite recently, in June earlier this year. What have you been up to since then?
– Since graduating, I have been busy with searching for a full-time position in the nonprofit sector in Denver, Colorado. I am happy to report that I have started a new position with Planned Parenthood of the Rocky Mountains as their Development Assistant II.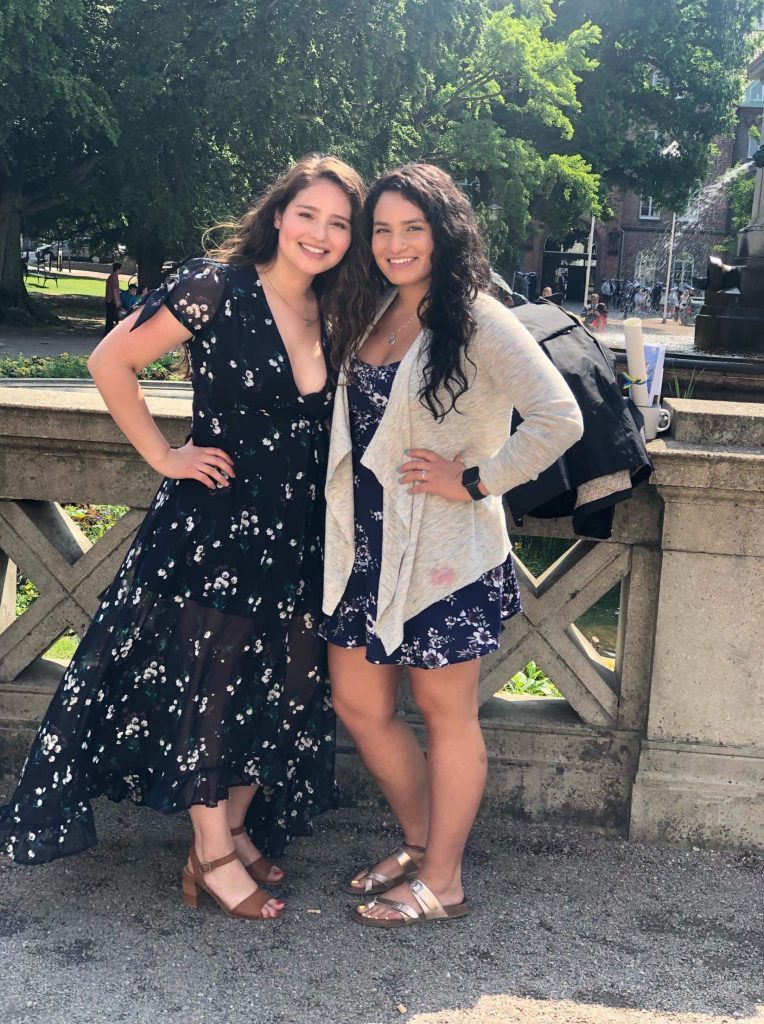 Q: During your studies, you've been engaged in a lot of volunteer work. For example, you've been a LGBT+ initiatives board member at the student organisation Project Sex in Lund. Do you think your volunteer work has been beneficial for your studies? If so, in what way?
– My volunteer work with Projekt Sex (P6) helped me in numerous ways with my studies and determining my future career path. I began my work with P6 as a volunteer, later rising to the communications officer position, and finally as a board member in charge of LGBTQ+ Initiatives. P6 put my gender studies topic courses into practice. We discussed numerous topics such as LGBTQ+ issues around the world, asexuality, and pride week in various parts of the world. Many of the other volunteers and officers were students also studying gender studies. We could begin to put into action, and discuss in relation to some of our own personal lives many of the topics being discussed in our courses.
Q: You've both studied at Lund University and University of Denver. Was your experience in Sweden different from your life in America? In what way?
– My experiences in Sweden were very different than those in America. The primary difference is the high level of independence that is expected right as you begin your studies at Lund University. I went from having at least 2-3 meeting times each week per class to only meeting once a week at LU. The only way to succeed was to be personally accountable to yourself rather than the multiple projects and almost daily class instruction at the University of Denver. I loved it! It forced me to become more independent and personally accountable to myself as a grad student. It also gave me free time to explore volunteer positions, such as Projekt Sex, that flourished into a large commitment and passion in my life.
 Q: Do you have any special memories from your time as a student at Lund University?
– One of the most memorable and special memories from my time as an LU student was the moment I finished my Master's thesis. It was wonderful! I worked so hard on research, writing, and editing and though it marked the bittersweet end to my time in Lund, it was the final milestone project of my time as a graduate student. I'll always remember it.  
 Q: Where do you see yourself in five years?
– In five years, I hope to still be working in the nonprofit field, specifically related to gender, reproductive health and social justice. I hope to also be considering a PhD program at that time, possibly coming back to Lund University, a city and university I've come to cherish and love.