Simon Frennberg always has the last word when the brewery, Brygghuset Finn, decides on a new beer recipe. This is because, once up on a time, Simon was the one who brewed the first Brygghuset Finn beer in his corridor room at the Helsingkrona student nation. But it was together with Joacim Larsen and Petter Lindholm that the corridor room brewery was transformed into a profitable business venture.
Brygghuset Finn works according to traditional craft methods in combination with innovative engineering knowledge, which is perhaps no great surprise as all three founders are Lund University alumni from the Faculty of Engineering (LTH), one from Industrial Economics and two from Engineering Physics.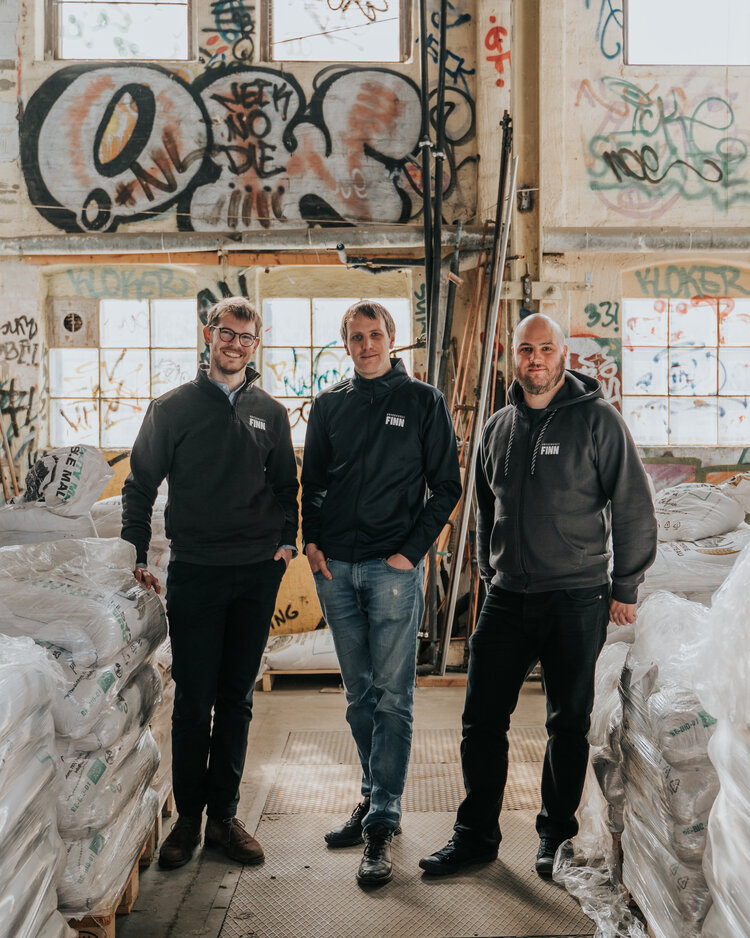 Lundensaren visits the brewery early on a Thursday morning in April. The smell of hops is apparent as soon as you walk through the door. From the building's ordinary exterior, it is difficult to imagine the giant machines concealed within. Joacim Larsen opens the door with one hand and balances his 15-month-old daughter Majken with the other.
"This isn't really as we had planned with babysitting and everything, but sometimes you have to improvise," he says and smiles.
He is in a busy period dealing with his roles as a new father and CEO of the company, and sometimes Majken comes to work with him.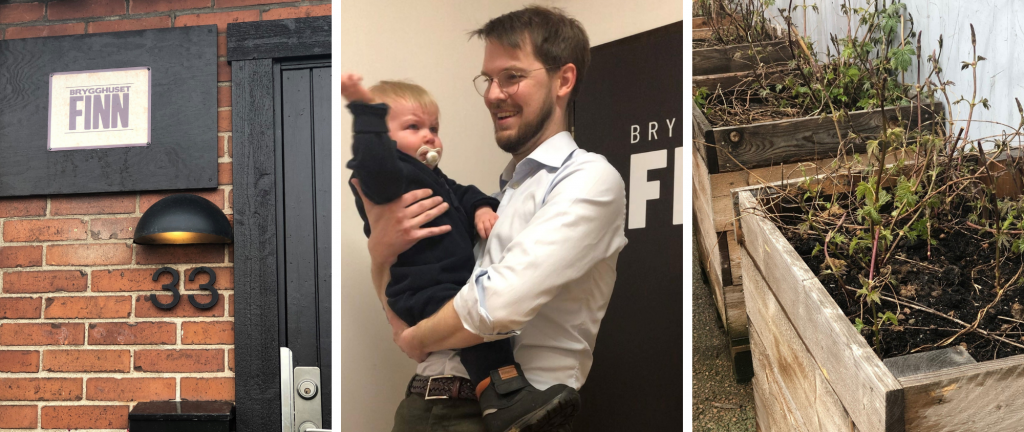 Welcome to Landskrona
The name Finn was adopted during the university years and that's why it has a strong association with Lund, even though we find the brewery a bit north of Lund in premises located at Landskrona's harbour.
"We realised that it was better for us, purely in financial terms, to be based in Landskrona rather than Lund," says Joacim. "The brewery already had a name at that point, as the company was started as a student project in Lund. And, of course, that's where the three of us met."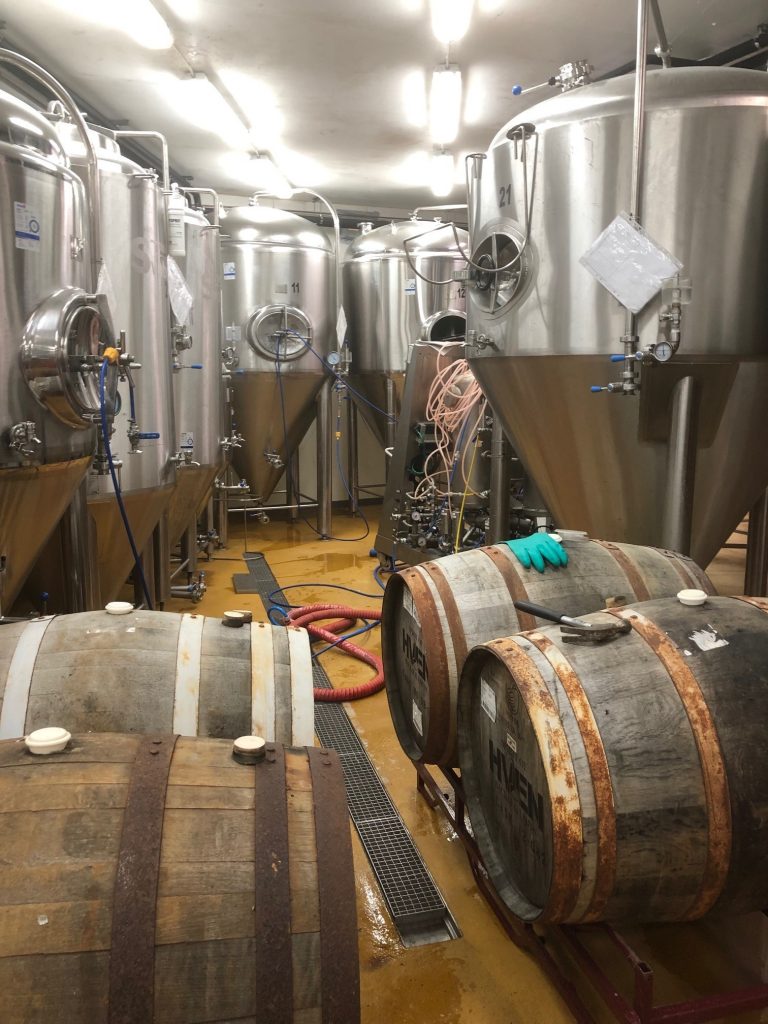 The corridor beer project
Simon Frennberg's room was the headquarters of the brewery, something that was not always popular among the others living on the corridor. But then they increased the volume and improved the quality (i.e. flavour) of the beer. Then, suddenly, the corridor brewery gained in popularity!
Finn now brews approximately 400 000 litres of beer annually, has over 800 shareholders and is the winner of several prizes in the category of locally-produced craft beer.
"The recipe for our brewery is to brew based on curiosity and the love of craft beer and microbrewing. You won't find any preservatives, chemicals or cheap substitutes in our beer," says Petter Lindholm.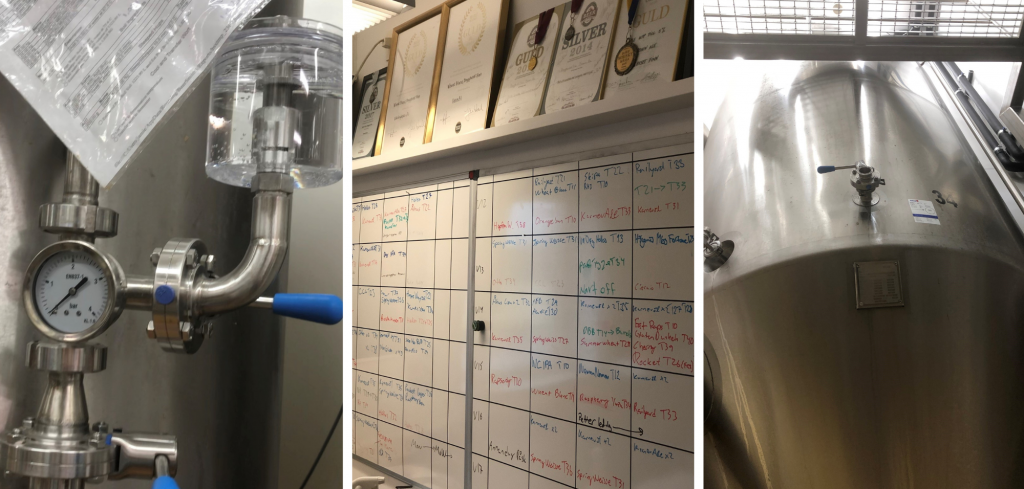 "The fact is that many of those who work here have an LTH background. And that has really made it possible for us to actually develop new methods and our equipment, as well as improve our quality management. For example, we have recently set up a large lab with PCR potential and advanced analysis methods and to a large extent it is based on our collective LTH backgrounds," says Joacim.
"But at the start, it was by no means self-evident that we would be doing this in the future. At one time, I thought I would work as a consultant in the banking world. And Petter thought he would possibly work in academia. But when an opportunity calls, you can choose to take the chance or not. There was already a business plan thanks to the student project and there was a beer to produce – so we took the chance and went for it."
The Karnevöl (Carnival beer) 1986-2022
Carnival beer (Karnevölen) was introduced for the first time in 1986. Initially, it was the major breweries that marketed their beer by putting a carnival label on the can. However, during the 2014 carnival, the trio realised that there was no true ale in the carnival beer selection and they got the chance (after a successful pitch) to produce beer for the 2014 carnival, Futuralkarnevalen.
"At that time, we were not in a position to produce on a large scale," says Petter. "So, we renamed one of our American pale ales and put on the carnival logo. And, as sales were very good, we participated again in 2018 – but then, at last, we could produce more."
And that brings us up to date! For 2022, the whole range of beers has been produced from scratch. All the recipes and ideas have been developed in a consultation process between Brygghuset Finn and carnival representatives. And it is historic. The result is first-class beer from Skåne.
Four kinds for different preferences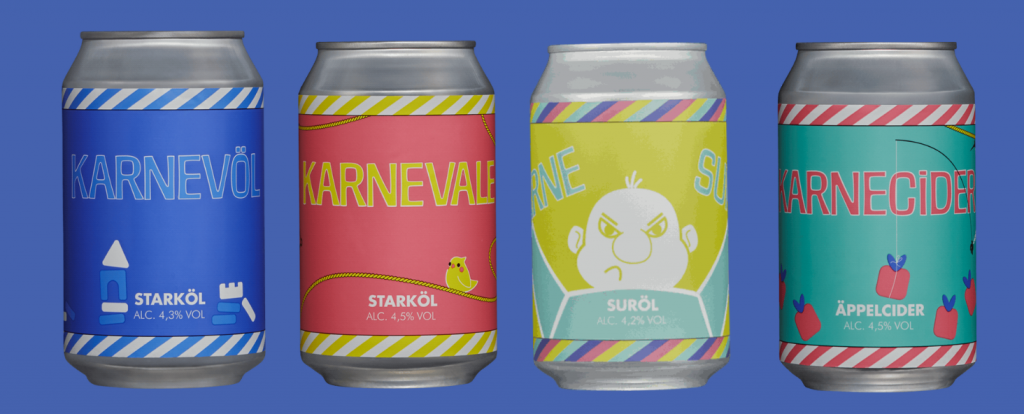 Karnevöl
The carnival beer for 2022 is a German-style classic pilsner with a rich flavour and full character – a classic pale lager, 4.3% abv.
Karnevale
This year's carnival ale is a session IPA with a hoppy aroma, newly developed by Brygghuset Finn, 4.5% abv.
Karnesuris
This newcomer is a sour beer with hints of guava, orange and passion fruit, 4.2% abv.
Karnecider
The carnival cider is an apple cider with a fresh taste, 4.5 % abv.
Do you want to know more?
Brygghuset Finn also collaborates with LUCSUS (Lund University Centre for Sustainability Studies).
Read about the collaboration in the article "Collaboration with local brewery to improve the sustainability of the craft beer industry" or watch the film about the collaboration below.