With the spring semester having come to an end, we'd like to say congratulations to new graduates and welcome you to the Alumni Network!
Some alumni would also like to wish you a big congratulations! 💐🎉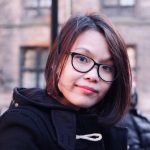 Hej hej! Greetings from Hoà, originally from Vietnam but currently doing my PhD in Hong Kong. I did my Master's at Lund University from 2014 to 2016. Congratulations on your graduation!!! I hope that you all had a wonderful time studying, making new friends, (and partying?!?) at Lund! Some of you might have already figured out what your very next steps will be, whereas others might still take some time thinking. No matter what comes next, I can confidently say that the knowledge, skills, friendships, connections, and so forth that you have thus far gained during your time at Lund will serve as solid foundations for your future endeavours. Let's celebrate this very important milestone in your lives, and I wish you all the best of luck!
---
Dear Graduate,
What a wonderful achievement in your professional and personal life! Massive congratulations! You must feel very proud of yourself and excited for all the adventures ahead of you, make the most of every opportunity and experience.
Without any doubt, your school days will remain in your memory forever; as an alumna myself, I treasure marvellous moments at Lund University and the fantastic experience of living and studying in Sweden with my now friends with whom I remain in contact regardless the distance. With them I have been able to find a professional and emotional support network, for which I'm very grateful, because we have been very careful to nurture our friendship, help each other when we need it and continue learning from each other.
Believe me, even though you have finished your studies, you will never stop learning. So my advice is to always have an open mind to continue learning, continue harvesting your capacity of wonder; be humble, honest and trustworthy, and at the same time demonstrate who you are and what you are capable of.
Volunteer yourself to participate in projects even when you believe you don't know enough, because undoubtedly you will learn, and that will also work towards the building and maintenance of your professional network.
Whenever you have the chance, go back to study, try to keep yourself updated within your profession as in this ever- evolving world you cannot be left behind.
And most importantly, enjoy every single moment from now on. Time flies…even when days get darker and you don't see the light, because that is also part of the life, and when the days are luminous, enjoy and make the most of them.
I wish you all the success that you deserve!
With hope,
Jenny García
MSc in Strategic Public Relations and Communication Management, 2016
---
Hello and congratulations on your graduation from one of the best universities in the world!
Speaking from experience, graduating from LU is a privilege. It really is because people know that you have fought hard and sacrificed a lot along the way and also because it makes you one step closer to what you want to achieve in your career. But being Lund alumni is also a responsibility – you're expected to do your best to make this world better.
But before changing the world: it has already been a year since my graduation, but I still remember that sweet feeling of not having to study following the thesis defense – so don't rush to get your career sorted, have some time off for yourself, pick a destination or two you can travel to and just enjoy your graduation!
Best wishes,
Azad Mammadli
Master's in European Business Law, 2020
---
To all new graduates from LU,
Congratulations to you on this major achievement, particularly in this special period of time! My memory of studying and living in Lund still remains quite fresh but I do feel like sharing some thoughts and reflections with you.
1. Strategically plan your career, but never limit yourself. To reach a desirable career goal, we all need relevant expertise and experience, along with years of practice. Always remember to be very cautious about where/how your time, effort and focus should be invested. On the other hand, you wouldn't know your potential or interest unless you give it a try. Thus, do not set limitation but put all your heart into such career option / path once a thoughtful evaluation is made.
2. Learn from the best but only compare with past self. My time in Lund has been surrounded with amazing, insightful and supportive people. Focus on the bright fellows around and strengthen your own knowledge, understanding and competence. Coming from different backgrounds and stages, we'd better only concentrate on our self for longitudinal improvement, in a more sustainable and motivating way.
3. Try to balance yourself between individualism and collectivism. It's true that everyone of us should thrive and shine in our own way in terms of uniqueness. However, we couldn't ignore the marvellous achievement brought by collective minds. It is kind of an art for an individual to find the most suitable way to integrate and contribute at large while maintaining the characteristics.
Wish you find your own sweet spot in this spaceless world with countless possibilities!
– Di Tang
Master's in Biomedicine, 2020
Currently enrolled in the PhD Programme in Medical Sciences
---
Happy Graduation! No matter how challenging the social situation is, you've made it! Wish you all the best in your future endeavors.

– Tom Hui
Master's in Management, 2018
---
Hello everyone!
Congratulations on your graduation! 
The days of studying at Lund for you are over (at least for now) but have no fear! Although you might not feel sure about your next step, global alumni ambassadors are here to keep you updated with post-graduation tips and motivation.
Good luck and wish you all a great summer 🙂
– Kaltrina Izairi 
Master's in Finance, 2019
---
Congratulations to you all for your graduation from Lund University. I believe that what you have learnt will contribute to your success in the upcoming career or whatever you are planning to do. Good Luck!
– Ittipol Jungwatanawong from Thailand
Master of Arts in European Studies, 2014